The Windy City boasts one of the country's fastest-evolving restaurant scenes, with 23 Michelin-star restaurants and a bevy of creative craft cocktail bars. For many, design is just as important as the menu. These 10 fabulous restaurants in Chicago, from a Scandinavian-inspired restaurant to a lush, greenery-filled space that transports you to the Mediterranean, feature pretty rooms where the design is just as good as the food.
---
3 Arts Club Café at RH Chicago
RH, a retailer with upscale modern furnishings, is known for its gorgeous residential-meets-retail gallery spaces with restaurant or bar concepts. If you find yourself in Chicago, be sure to stop by the 70,000-square-foot gallery, which showcases RH furniture and has the 3 Arts Club Café, an open-air restaurant open for brunch and dinner with traditional American fare and a superb wine list. The light-filled restaurant has high ceilings with arched windows, brick walls, skylights, and striking chandeliers.
---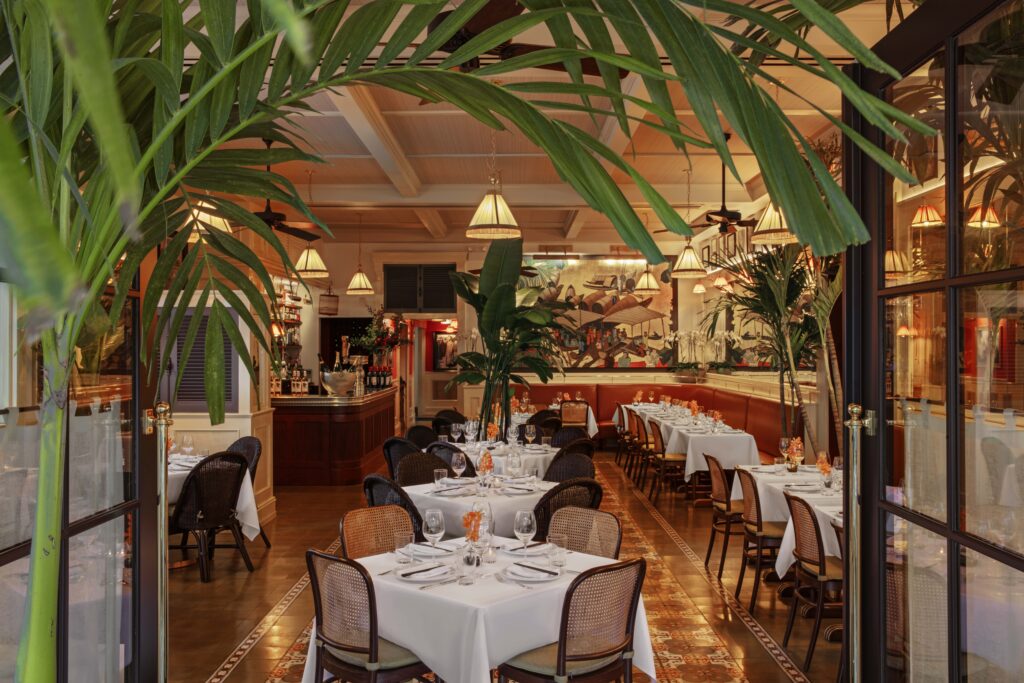 Le Colonial
Founded in 1993, Le Colonial has always been just as sought-after for its French-Vietnamese fare as it has its chic dining experience, which embodies Saigon in the 1920s. Colorful tiled flooring, bright-blue booth seating, Indo-Chinese artifacts and decor, and greenery bring life into this iconic Chicago restaurant.
---
Ever Restaurant
The peaceful, subdued, and contemporary design of the two-Michelin-starred Ever Restaurant, from renowned Chicago chefs Curtis Duffy and Michael Muser, was purposefully designed to make the true centerpiece shine: the food. Lawton Stanley Architects crafted the futuristic-like space with textured, curved walls and canyon-like hallways with 12-foot ceilings and museum-quality lighting that is designed to highlight the dishes. This results in a dim, ambient atmosphere that is a sensory experience in every sense of the word.
---
Proxi
From chef Andrew Zimmerman, Proxi's menu is a mix of cuisines from Asia, India, Mexico, and beyond. The design, however, is reminiscent of American brasseries with barrel-vaulted ceilings, leather-upholstered booths, and antique mirrors, an homage to the building's past as a former printing house. It also foreshadows the gastronomic experience: international food through an American lens.
---
Aba
Mediterranean restaurant Aba, which means 'father' in Hebrew, serves dishes with flavors from Israel, Lebanon, Turkey, and Greece from chef CJ Jacobson. And the rooftop space instantly transports you to summer in the Med thanks to its bright main dining space and biophilic design featuring lush greenery at every turn.
---
Elske
Elske, which is Danish for "to love," is helmed by husband-and-wife duo, chefs David and Anna Posey, both who have a strong connection to Denmark. In fact, the pared-down design of Elske feels as if you're enjoying a meal at the chic home of a Scandinavian friend. The white-washed restaurant features an open-plan, bright, and airy dining experience with features like an al fresco fireplace and pebbled garden; mid-century modern tables and chairs; and nature-inspired, hand-drawn wallpaper from Anna herself.
---
BLVD Steakhouse
If there was a power dinner restaurant in the 1950s where a see-and-be-seen crowd would gather, this would be it. Inspired by steakhouses during the Golden Age of Hollywood, BLVD Steakhouse channels glamorous dining on L.A.'s Sunset Boulevard. This Old Hollywood aesthetic is seen through gray-and-silver banquet seating, hanging glittering chandeliers, and sexy lighting.
---
Duck Duck Goat
Multi-award-winning chef Stephanie Izard is a trailblazer in America's restaurant scene, with renowned restaurants like Girl and the Goat, Little Goat Diner, CABRA, and Duck Duck Goat. The latter is a Chinese-American restaurant inspired by her travels abroad that serves hand-made dumplings, wontons, spring rolls, and other delicious dishes in a space reminiscent of Chinatowns in America. The cinematic and whimsical spaces feature rich color palettes, layered textures, vintage wallpapers, a jade bar, and dramatic interpretations of Chinatown storefronts.
---
Andros Taverna
The industrial-chic vibe of Andros Taverna, located in Chicago's hip Logan Square neighborhood, might not be immediately reflective of its authentic Greek menu, but the space pays homage in subtle ways. Terracotta bricks, rounded mirrors and curved lines, and a glass-enclosed greenhouse all reference Greek architecture and design.
---
Lýra
Greek restaurant Lýra called upon acclaimed Greek chef Athinagoras Kostakos to create authentic Greek flavors in a setting that is designed to mimic a village in the Greek islands. The design reflects traditional Greek style, like a sand-hued color palette, large windows, and nods to Greek mythology. Lýra represents the lyre of Orpheus and is a constellation, which is depicted within a wooden mural that hangs in the main dining room.
Other articles you may like: