Madrid, Spain's central capital, is a pulsating metropolis brimming with walkable boulevards, diverse neighborhoods, manicured gardens, and warm-hued Castillian-Baroque architecture at every corner. After frolicking Madrid's streets, HAP Editors Britney Eschelman and Megan Shelton jotted down their list of the city's best places to stay, eat, drink, and visit.
---
Where to Stay:
The brand-new Thompson Madrid is in a historic building on Calle de la Montera, just a stone's throw away from the city's most historic sites. The design-centric stay features rooms with deft millwork and walls slathered in handsome dark blues and greys. Make sure to take a dip in the hotel's rooftop pool.
Housed in the former Duke of Santo Mauro's ornate palace, Hotel Santo Mauro presents unparalleled authenticity in this historically renovated 19th-century stay. The 49-guestroom property features jaw-dropping beauty fit for royalty (pun intended): plush midnight blue furnishings, gold-accented oriental wallpapers, and centuries-old chestnut trees decorate pristine gardens, evoking that of a Spanish noble house from the 18th century.
---
Where to Eat:
Set inside a futuristic butcher shop with eclectic trappings and a playful pastel lego-like ceiling with giant fish hooks as bag hangers, this trendsetting tapas bar reminisces a Spanish-style omakase experience. The vibey counter seating allows for conversating with neighbors over these playfully flavored tapas (Try the Green Pea Ice Cream, wrapped in cotton candy and drizzled with lemon).
Sitting in the same building it did three centuries ago, Lhardy Restaurant is a renowned 19th-century eatery intertwined with the cultural and gastronomic history of Madrid. Dining at Lhardy is similar to touring a museum: indulge in classic dishes, including the Sirloin Wellington Lhardy or Lhardy Cooked Croquettes — which were served on its original menu dating back to 1839 — with delicate antique silverware in hand.
Nestled within the URSO Hotel & Spa in Madrid's Justicia barrio, Casa Felisa offers a contemporary take on traditional Spanish cuisine. The eccentric albeit elevated space offers traditional dishes such as Soufflé potatoes with salsa brava, Macaroni with tomato, Iberian chorizo and cheese from Madrid, as well as "A la llauna" rice with veal chop; opt for a bottle from their curated wine selection to round out a jovial evening.
---
Where to Drink:
In the historical Justicia barrio filled with burgeoning artists and modern boutiques, GOTA Wine Bar focuses primarily on their relationships with the makers of natural and biodynamic wines, and the personal winemaking approaches they take.
Stepping foot in the 127-year-old bar feels like traveling backward in time: antique bottles and memorabilia line the walls, engraved beer taps make up the bar, and there are no seats, but worn wooden hi-top tables. Beer, wine, or vermouth pair perfectly with the top-notch traditional tapas: Spanish tortillas, salmorejo (similar to gazpacho but saltier), artichokes, anchovies, and even sea anemones.
---
Where to Visit:
Chueca Neighborhood
Named for its main square — Plaza de Chueca — this barrio in Central Madrid is known as the city's gay neighborhood. Naturally, it's arguably the most lively pocket of the city, with extravagant culture ranging from boutique shops — such as Malababa, Pez, and Phanta Rei — to innovative restaurants and markets tailored to various LGBTQ+ communities. Also, this is where travelers will find the Mercado de San Antón: an energetic market with three levels of gourmet eateries and a terrace bar.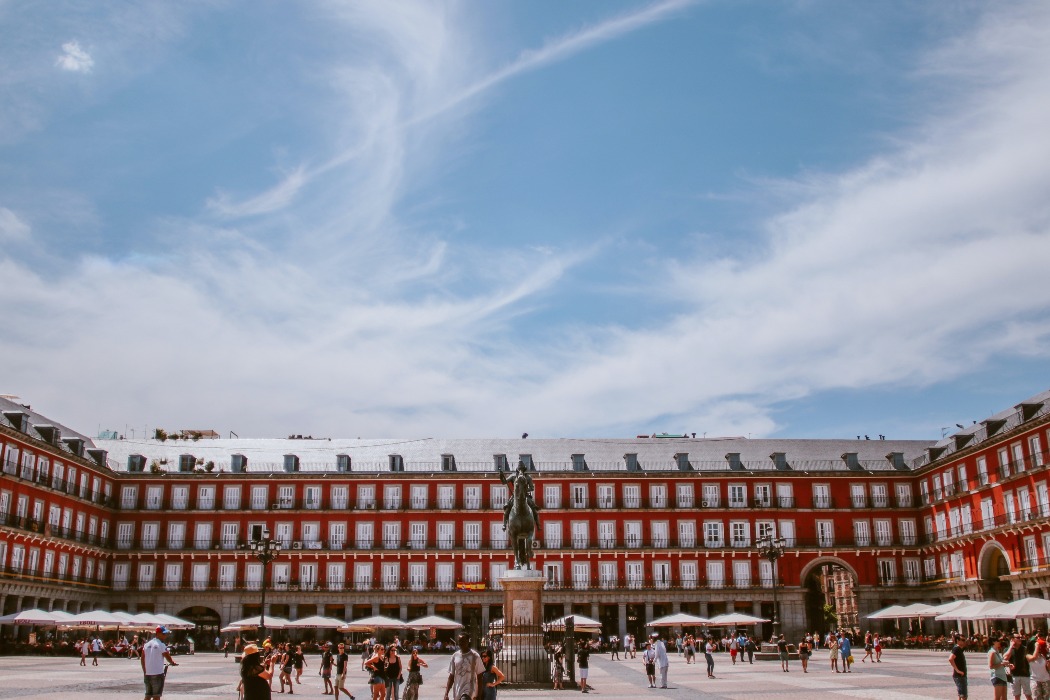 Plaza de Mayor
A lively and emblematic main square in the center of Madrid, the Plaza de Mayor was once the beating heart of Old Madrid. Its prominent statue of King Felipe III is one of the city's most recognizable landmarks.
El Retiro Park
Head to El Retiro Park for an afternoon stroll through this large-scale urban garden to see the famed Crystal Palace and snap a picture in front of the Monument to King Alfonso XII — where visitors can rent row boats and float on the Great Pond of El Retiro.
Templo de Debod
Gifted to Spain from Egypt in 1968, this Ancient Egyptian shrine started as a one-room space built to honor the Egyptian god of Amun. As time went on, it was enlarged by the civilization's pharaohs, then by leaders of the Roman Empire. Today, it sits in Parque del Oeste near the Plaza de España.
If you love European and Spanish art from the 12th century to the early 20th century, this art museum — considered one of the world's best — is right up your alley.
Often overlooked (but shouldn't be) by the Prado, this museum packs modern and classic artworks from Pablo Picasso to Vittore Carpaccio, and Van Gogh.
Other articles you may like: