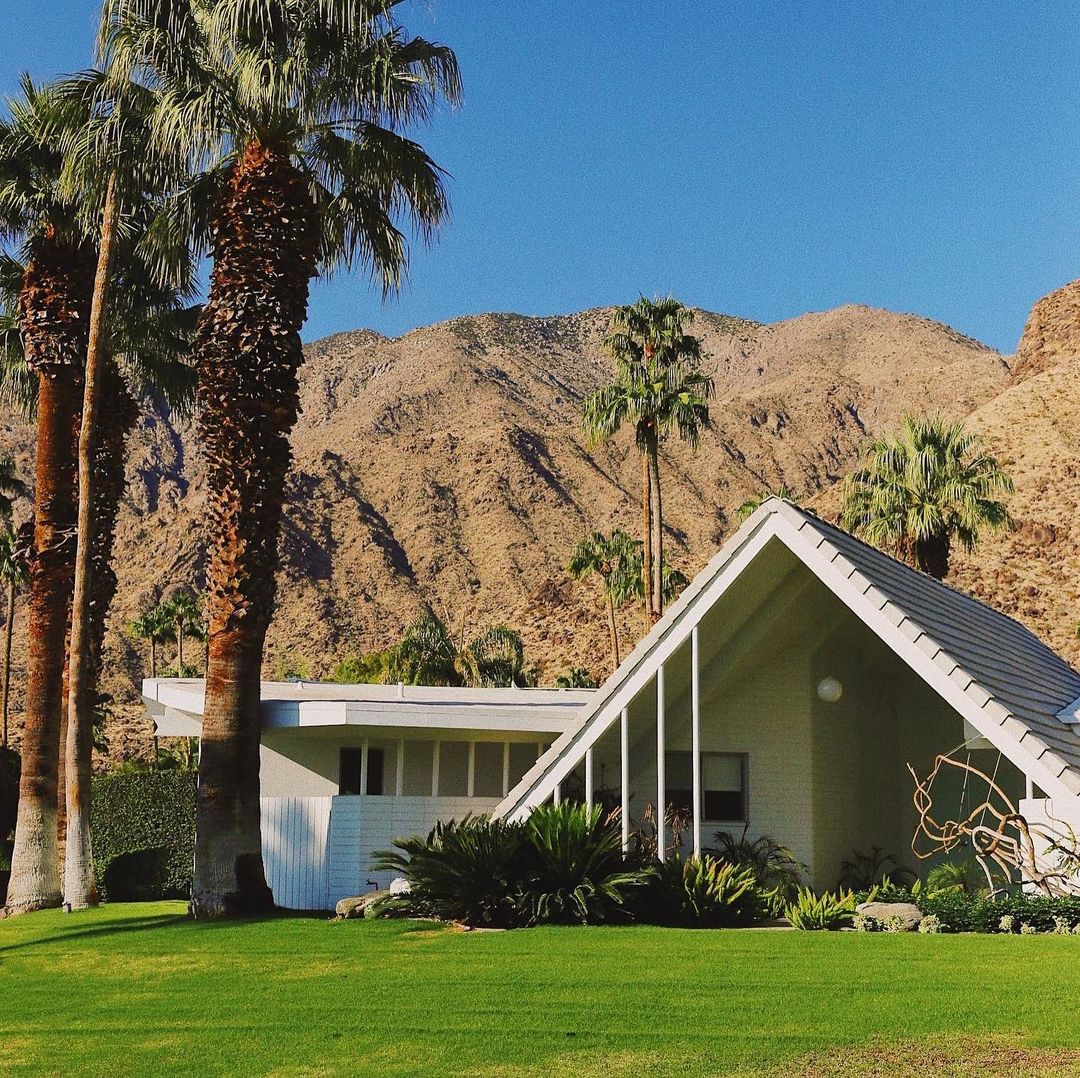 Just like how New Yorkers escape to the Hamptons during the summer, Southern Californians seek pool-lounging weather in Palm Springs during the winter. With streets lined corner-to-corner with mid-century-modern-style architecture, soaring palm trees, a downtown that hosts swaths of art galleries, retro-inspired shops, restaurants, and bars with expansive patios, as well as adventure-welcoming hiking, Palm Springs is an alluring destination. It's also the Founder of Hotels Above Par Brandon Berkson's favorite spot, so it only seemed natural that he would write a "Palm Springs Destination Guide" — check it out below.
---
TO STAY
The Colony Palms Hotel is a five-star stay comprising a wealth of Spanish Colonial-style stucco edifices. The green-striped umbrellas, plant-patterned lounge chairs, and square-shaped pool are destined to put you in vacation mode. Restaurant Purple Palm offers an atmospheric patio and a menu inspired by Latin American and California fare.
This 1920s-built hotel — which blends midcentury modernism, adobe, and Spanish Colonial stylings — was a watering hole for Hollywood's golden-age elite. A two-minute stroll to Downtown Palm Springs, this 30-room hotel comprises a clutch of bougainvillea-heavy casitas, hidden gardens, and a pool optimal for the area's frequent sunny days.
---
TO EAT
One of the best ambiances in Palm Springs, this outdoor patio is shrouded by desert-style trees and hanging lamps, where it offers craft cocktails and delicious pizza (the cauliflower pizza selection here is impeccable).
A swanky Downtown Palm Springs haunt which has an interior that perfectly pairs ivory white with pops of color — the outdoor area is equally as fun.
---
TO DRINK
If you want to be one of the trendy people who does Palm Springs in style, have a drink at Truss & Twine. When at the bar (they've got a lengthy cocktail menu), order the Green Philter, which has Pernod absinthe, pineapple, lime, house orgeat, and cucumber.
---
TO VISIT
Downtown Palm Springs
A long strip of stores and restaurants, many of which pay homage to the city's forefront standing as a mecca for retro design. Make sure to shop the Trina Turk flagship store for upbeat knickknacks and chromatic clothes inspired by the fashionista's love of California confidence and Americana design. Also, make sure to shop art and the funniest coasters you've ever seen in your life (of course, if you love incredibly irreverent humor that wonderfully pushes the limits) at Michael Weems Collection. For retro furnishings and epochal lamps, check out Pelago. Lastly — and this one is a must if you have a 24/7 sweet tooth — grab some chocolate toffee at Brandini Toffee.
Indian Canyons
A desert hike replete with meandering trails, pre-historic rocks, and palm trees.
See the area's famed mid-century modern homes with The Modern Tour. Palm Springs is a hub for this type of architecture, with many of the homes being shown on this tour once under celebrity ownership.
The world's largest rotating tram car, the Palm Springs Aerial Tramway travels over two and a half miles to the top of Mt. San Jacinto. You start out on the desert floor and upon arrival of the tram at the top, you are surrounded by mountain peaks, verdant forests, and, if you go in the winter or spring, lots of snow. There are a plethora of hiking trails to take advantage of here, many with sensational views of the Coachella Valley.
The pocket-size Moorten Botanical Garden is full of wacky-looking cacti and desert plants. It's both Instagrammable and wallet-friendly (admission is only $5/person).
Other Articles You May Like: