From high desert landscapes to tree-covered mountain tops, the USA's breadth of national parks offers all different types of experiences — even ones for those who "like the finer things in life." For all of our sybaritic nature enthusiasts out there, we've compiled a list of the best luxe boutique hotels & chic glamping stays country-wide, all next to national parks.
---
4 Stars | Website | Bozeman Yellowstone International Airport
50 | Spa; Fitness center; Bar | 2
Yellowstone National Park-North Gate; Old Saloon; Yellowstone River
The rugged beauty of Montana's Paradise Valley helps position Sage Lodge as a luxurious mountain lodge, one that's just a 35-minute drive from Yellowstone National Park. The 50-key stay imbues a cozy alpine home feel, with its in-room stone fireplaces and dark wood furnishings. Spend the day at Yellowstone National Park through the lodge's guided wildlife tours, followed by a treatment at the Spa at Sage Lodge, and dinner snuggled up next to an outdoor firepit at the Fireside Room.
---
4 Stars | Website | Palm Springs International Airport
14 | Free WiFi; Full-equipped kitchen; Front desk | 0
Joshua Tree National Park; Noah Purifoy Outdoor Desert Art Museum; The Integratron
Idyllically situated at the Joshua Tree Retreat Center — a few minutes from the national park entrance — The Bungalows by Homestead Modern comprises 14 individualized suites housed in authentic midcentury post-and-beam-style buildings. Each room features concrete floors, yellow-colored window shades, and private patios, giving way to endless views of the high desert landscape.
If you need another option, Homestead Modern also helms Monument House.
---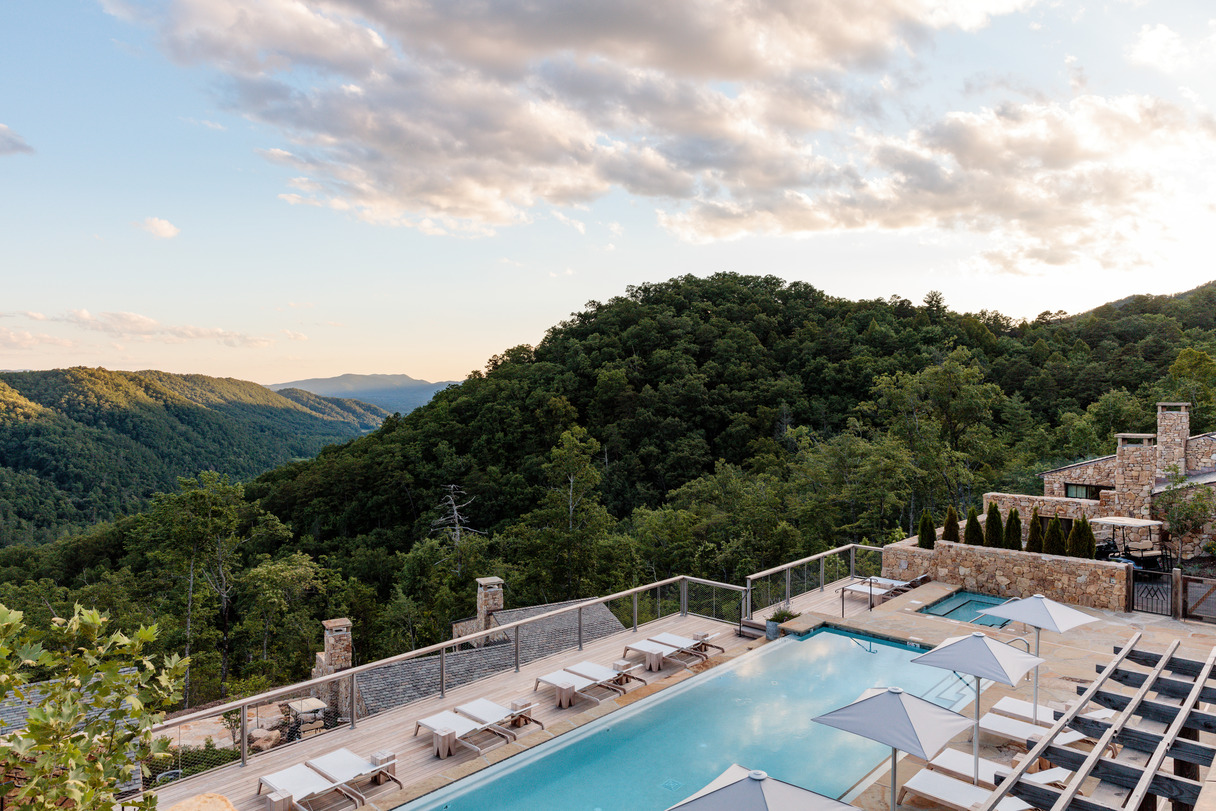 5 Stars | Website | McGhee Tyson Airport
75 | Outdoor swimming pool; Spa; Fitness center | 3
Great Smoky Mountains National Park; Blackberry Farm; Cades Cove
Sprawling over 5,200 acres of lush green valley and miles of hiking trails, Blackberry Mountain is a chic wellness-centric destination nestled in the Great Smoky Mountains — 20 minutes from Great Smoky Mountains National Park. The luxe 75 guestrooms boast natural wood interiors and plush, four-poster bed frames, which welcome guests to sink beneath the sheets to watch the sunset behind the Smoky Moutain peaks.
---
4 Stars | Website | Denver International Airport
86 | Outdoor swimming pools; Free WiFi; Outdoor seating | 1
Rocky Mountain National Park; Gem Lake; Sky Pond
Opening in the summer of 2023, Trailborn Rocky Mountains is Estes Park's premiere boutique hotel; it invites guests to explore Colorado's Rocky Mountain National Park right from their backyard. Interiorly, the 86 modern guestrooms spread across its two properties (40 rooms at Trailborn Rocky Mountains & 46 rooms at Trailborn Rocky Mountains Outpost) match the main lobby's convivial mountain lodge feel, plus its modern amenities: Wooden beds with stitched leather headboards, sustainable cork flooring, and handmade artwork from local artisans add vibrancy to the space. After a day of roughing it through snow-capped mountain peaks, alpine lakes, and 300 miles of hiking trails, the hotel's two outdoor swimming pools provide the ultimate respite.
---
5 Stars | Website | Fresno Yosemite International Airport
10 | Outdoor swimming pool; Spa; Pet friendly | 1
Yosemite National Park; Sierra Nevada Mountains; The Little Church on The Hill
Nestled in the Sierra Nevadas, Château du Sureau is a nine-acre castle resort offering ten elegant guestrooms, including the exclusive two-bedroom Villa du Sureau that feels like a true fairytale. Reminiscent of a French estate, each suite features a different fragrant herb or flower native to the region. Luxurious amenities include in-room wood-burning fireplaces, plush canopy beds, and balconies overlooking the lush Sierra Nevada forest. Its proximity to Yosemite National Park — just 16 miles away — makes Château du Surea the perfect resting place after a day of hiking Half Dome.
---
5 Stars | Website | Jackson Hole Airport
8 | Spa; Fitness center; Bar | 2
Grand Teton National Park; Teton Village; Jackson Hole Mountain Resort
Tucked beneath the mountains of Jackson Hole in Teton Village, the Caldera House is an ultra-luxury boutique hotel that is our ideal mountain getaway — no matter what time of year. Dressed in modern-Western Ralph Lauren fabrics, the hotel's four four-bedroom suites and four two-bedroom suites are dripping in luxe, American West fashion from floor to ceiling.
---
5 Stars | Website |
8 | Free WiFi; Spa; Bar | 1
Mesa Verde National Park; Four Corners Monument; Mount Wilson
Set in the Colorado Rockies, Dunton River Camp is the ultimate glamping destination an hour's drive away from Mesa Verde National Park. Open from June through October, the seasonal eight-tent outpost sports modern amenities: Plush furnishings, personal fireplaces, and two mountain bikes per tent for riding through the area's surrounding trails come with your stay. The modern 19th-century-renovated main lodge boasts a dining room, guest salon, and a wraparound deck with sweeping views of the San Juan Mountains.
---
5 Stars | Website | Hancock County-Bar Harbor Airport
63 | Pet friendly; Outdoor seating; Fireplace | 1
Acadia National Park; Indian Point Preserve; Woodlawn Park
Fringing Maine's waterfront, Under Canvas Acadia is an upscale tented-camp resort that envelopes its guests in nature while providing the utmost luxe glamping stay. By day, explore Acadia National Park's dense forests and rugged shorelines, just a 35-minute drive from the camp resort. By night, cozy around the fire pit for nightly s'mores before sinking into the generous king-sized beds.
---
5 Stars | Website | St. George Regional Airport
6 | Free WiFi; Complimentary Breakfast; Room service | 1
Zion National Park; The Narrows; Angels Landing
Located on the cusp of Zion National Park, Open Sky Zion is the perfect stay for voracious stargazers. With outstanding opportunities for viewing the Milky Way at night, the six luxe tents stand precisely positioned to give guests sweeping views of the surrounding nature and the star-abundant night sky. The tented camps suffuse earth-toned furnishings, private indoor and outdoor rain showers, plus expansive windows.
Other articles you may like: