Seeking an adventure that's out of the ordinary? Plan your next trip to a cave hotel. Nestled within breathtaking landscapes, the best cave hotels around the world offer unique experiences—due mostly in part to the combination of natural beauty mixed with luxury. From Cappadocia, Turkey (which boasts some of the most iconic cave accommodations), to Matera, Italy, (where the Sassi cave dwellings are home to luxurious retreats), and everywhere in between, cave hotels promise an exciting and unparalleled stay for any adventurous traveler. Ahead, learn more about the most incredible cave hotels across the globe.
---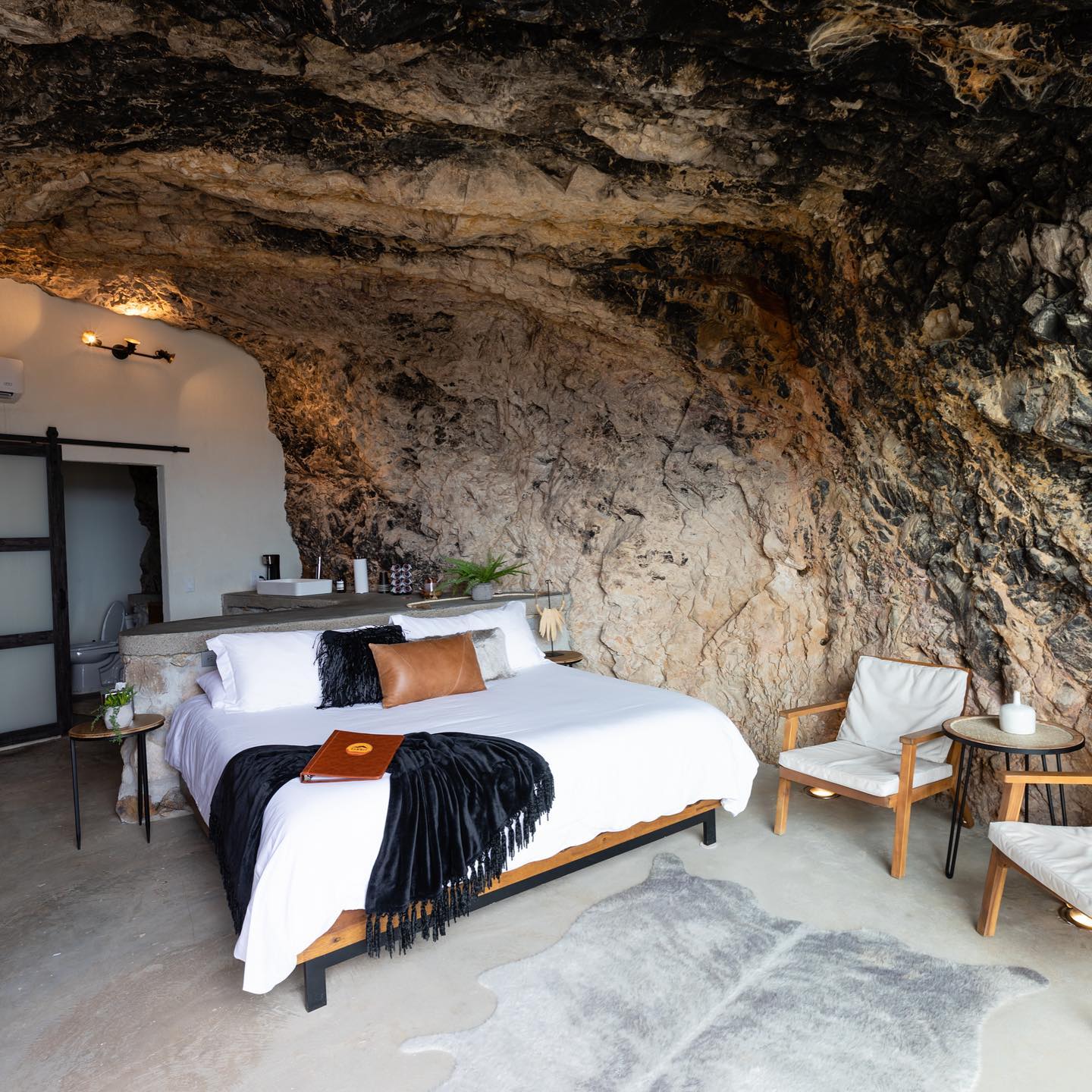 Key Points:



• Website
• 4 Stars
• Rooms: 44
• Closest Airport: Midland/Odessa airport

Amenities:



• Outdoor Fire Pit
• Free Parking
• Free WiFi
• 0 Bars & Restaurants
Tucked within the gorgeous landscape of Big Bend National Park lies The Summit at Big Bend. This premier glamping resort has unique cave rooms carved into the side of the Tres Cuevas Mountain. Each room offers sweeping views of the desert during the day and the stars at night. Although these rooms are inside natural rock formations in the remote wilderness, they don't skimp on amenities. Each one features a large king-size bed, private bathroom and shower, mini fridge, heat and air conditioning, and wifi if needed.
---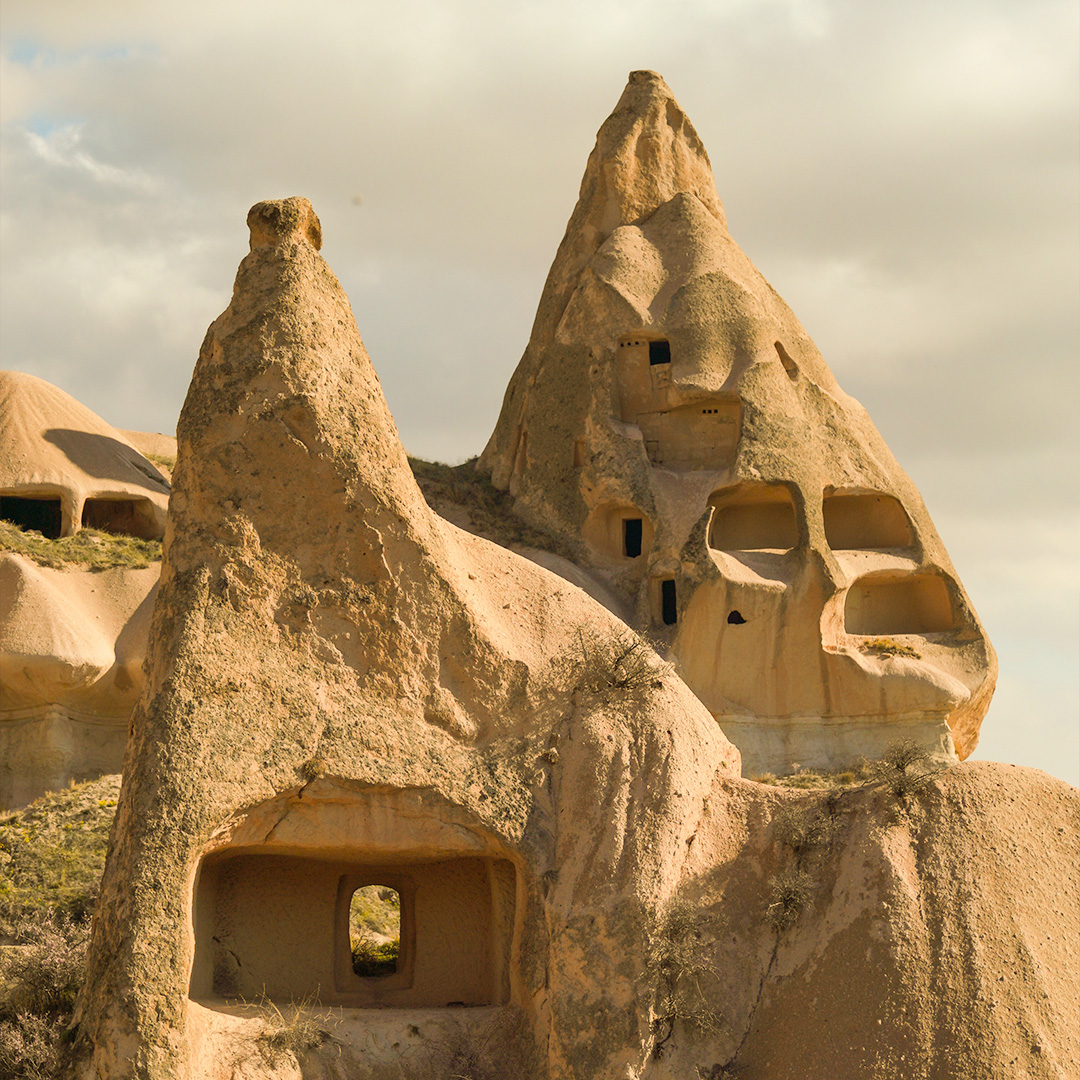 Key Points:



• Website
• 4 Stars
• Rooms: 51
• Closest Airport: Nevşehir Kapadokya Airport

Amenities:



• Swimming Pool
• Therapy Room
• Pet-friendly
• 4 Bars & Restaurants
When the early Christians faced persecution during the Byzantine era, they built underground cities to protect themselves. Now, those ancient settlements are home to one of the most popular hotels in the world. Argos in Cappadocia is a hotel designed to blend in with the natural landscape – and it does just that. It has 51 rooms, most overlooking the Pigeon Valley, Mount Erciyes, and fairy chimneys. Since the rooms have private terraces and balconies, guests can enjoy jaw-dropping views of Cappadocia's surreal landscape, especially during the iconic hot-air balloon-filled mornings.
---
Key Points:



• Website
• 2 Stars
• Rooms: 4
• Closest Airport: Karol Wojtyla Airport

Amenities:



• Spa
• Free WiFi
• Complimentary Breakfast
• 4 Bars & Restaurants
Right in the heart of Matera, Italy, stands La Dimora di Metello. This unique boutique hotel, housed within the historic Sassi cave dwellings, perfectly blends natural beauty and modern comfort. The rooms feature natural stone walls and sleek, stylish furnishings, making it one of the most sophisticated hotels we've seen. From the balconies and terraces, guests can enjoy panoramic views of Matera's beautiful landscape, which offers a glimpse into the city's rich history. At La Dimora di Metello, it essentially feels like you've stepped back in time.
---
Key Points:



• Website
• 5 Stars
• Rooms: 40
• Closest Airport: Bari Airport

Amenities:



• Spa
• Fitness Center
• Beach Club
• 5 Bars & Restaurants
Formerly a 16th-century fortified farmhouse, Masseria Torre Coccaro is now a luxury, family-run masseria. To experience the best this establishment has to offer, it's worth staying in the White Cave Suite. This suite, which is (fittingly) set in a natural white cave, features a large bedroom with a king-size bed, a big fireplace, a bathtub, and a whirlpool. It also has a gorgeous private garden with a sofa, an outdoor heated pool and whirlpool, a lovely dining area, and a lounge with a firepit. The best part? The hotel is just a short distance from the picture-perfect Adriatic Sea.
---
Key Points:



• Website
• 4 Stars
• Rooms: 15
• Closest Airport: Capetown Airport

Amenities:



• Spa
• Free WiFi
• Swimming Pool
• 1 Bar & Restaurant
Kagga Kamma Nature Reserve, situated in the heart of the Kalahari Desert in South Africa, is a surreal wilderness haven. This remarkable reserve spans over 15,000 acres and offers guests an immersive safari experience. The luxury lodges blend seamlessly with the landscape, making those staying there feel as though they are truly one with nature. With Kagga Kamma Nature Reserve's impressive commitment to conservation and sustainable tourism, this retreat is not only filled with breathtaking beauty but also a great model for responsible wildlife experiences in Africa. Trust us, it's a true bucket list experience.
---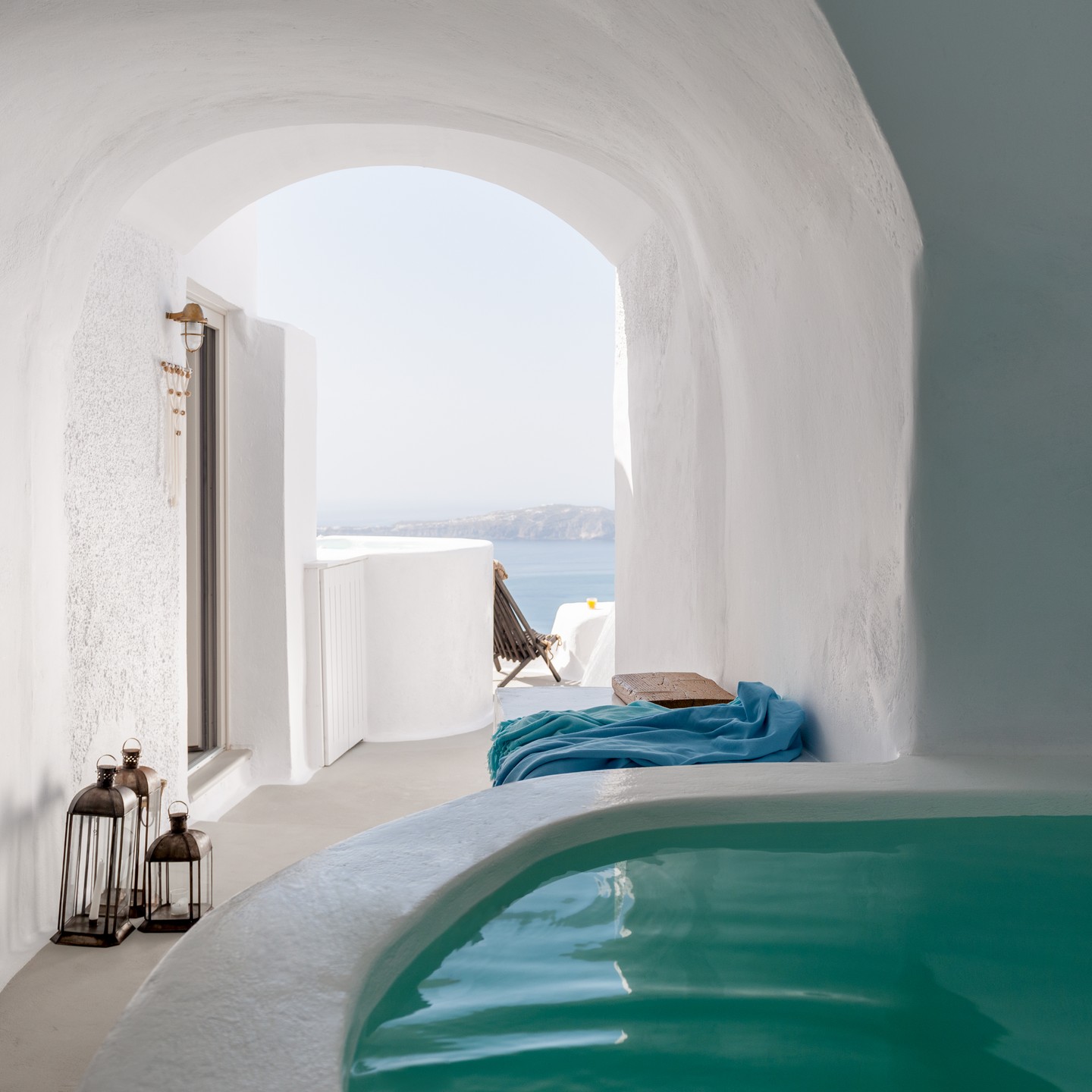 Key Points:



• Website
• 4 Stars
• Rooms: 13
• Closest Airport: Santorini Airport

Amenities:



• Private Plunge Pool
• Free WiFi
• Spa
• 0 Bars & Restaurants
To experience heaven on earth, take a trip to Cocoon Cave Suites in Santorini. Carved and hollowed out of the volcanic landscape, this hotel has nine newly renovated cave suites with views of the Aegean. The suites are big and grand and feature luxe decor, plush beds, and private plunge pools. Not to mention, this five-star resort also has a 24-hour concierge service, in-room candlelight dinners, and organic meals made with fresh, local produce. Need we say more?
---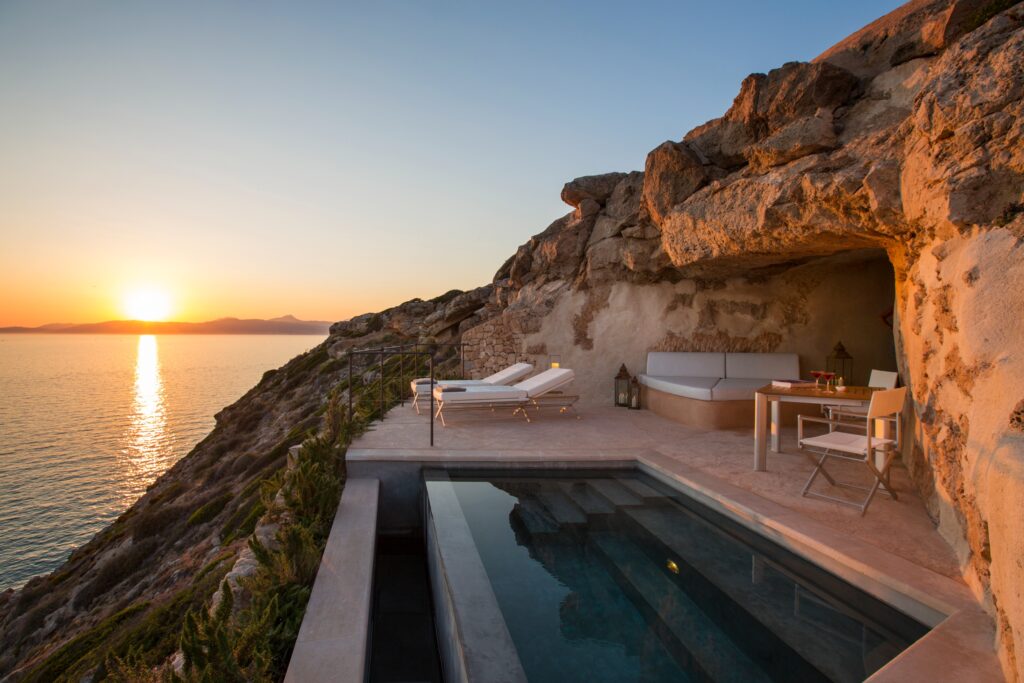 Key Points:



• Website
• 5 Stars
• Rooms: 26
• Closest Airport: Palma Airport

Amenities:



• Indoor/Outdoor Swimming Pool
• Free WiFi
• Free Breakfast
• 2 Bars & Restaurants
Looking for a luxury retreat tucked away on the rugged cliffs of Mallorca, Spain? Stay at Cap Rocat. This former military fortress was transformed into a five-star boutique hotel with one of the world's most impressive cave suites. The Sentinel Cave Suite is effortlessly integrated into the historic fortress, preserving the history and natural beauty. Its cool design, characterized by natural stone and elegant furnishings, perfectly echoes the rocky beauty of the landscape. Plus, the suite boasts breathtaking views of the Mediterranean Sea and jagged coastline.
Other articles you may like: