For those who grew up frequenting their families' country clubs––or yearned to be a part of one––and have been searching for something similar with a somewhat younger crowd, look no further than American Bar. This West Village hotspot is THE place to see and be seen, with fashion industry tycoons making this their daily haunt and notable lifestyle influencers such as Serena Kerrigan even winning her signature salad a spot on the official menu.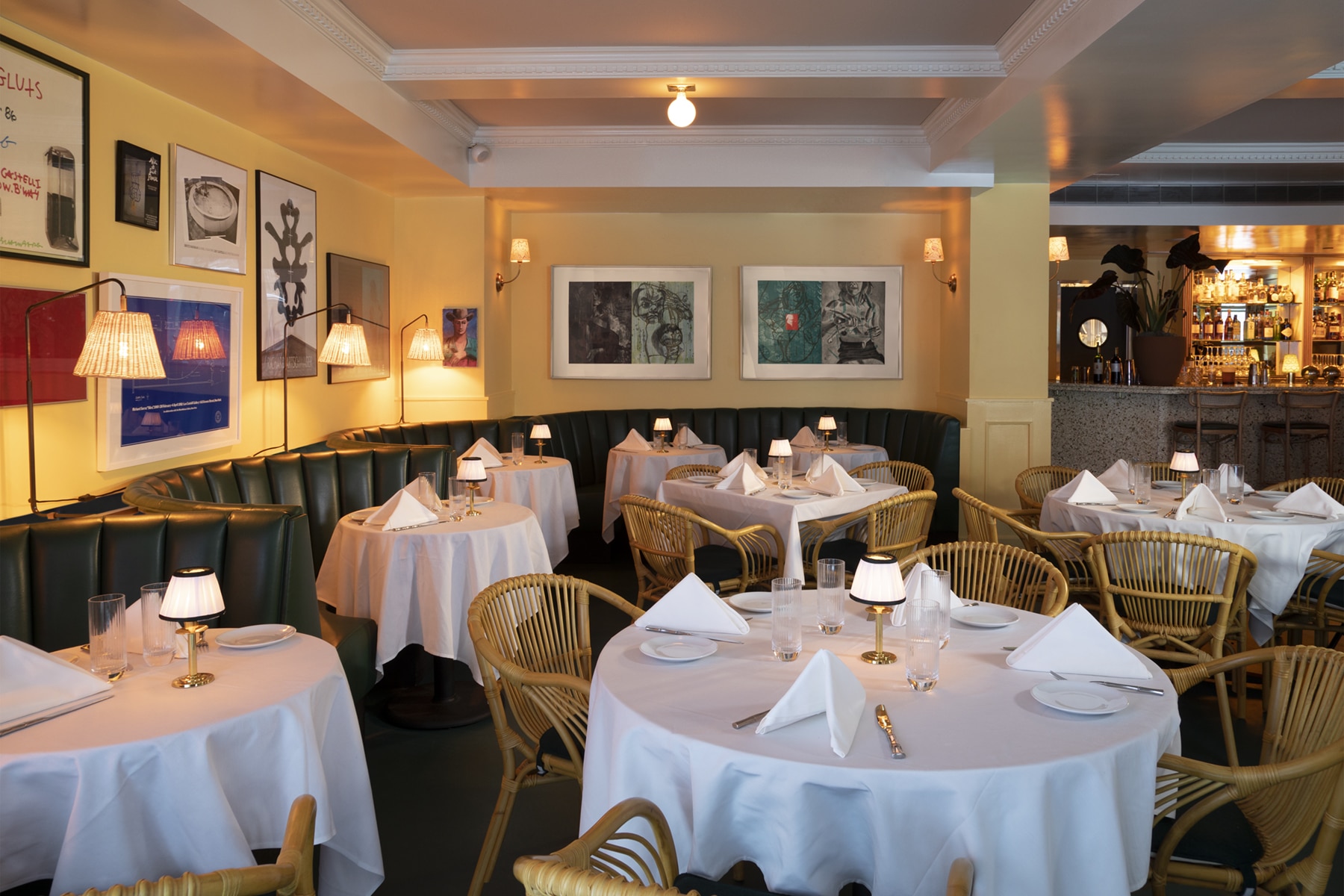 Opened in 2020 by the same team behind the Venetian-inspired Saint Theo's just down the street, American Bar encapsulates how one might imagine an elitist's home bar from the 1950s: an American flag hangs taught and proudly over the brass-rail terrazzo bar in the back, lined with liquor bottles galore. Diners perch themselves along the bright green banquettes and wicker chairs that line the sunny yellow walls, their eyes surfing the expansive dining room looking to see with whom they'll be dining alongside that evening. All the while, beloved throwbacks echo through the speakers.
The robust cocktail menu offers classicsthat are "prepared by the book and with care"––ranging from martinis to Pimm's Cup––as well as "twists," which are spins on the quintessentials. Diners may recognize the espresso martini from their Instagram feed or every "Best Espresso Martini in NYC" round-up as of late, but who can blame the masses? This rendition is made with Don Julio Tequila 1942 and Caffé Lollita coffee liqueur, which adds a hint of chocolate flavor that brings all of the flavors together perfectly.
While this is the ideal buzzy spot to grab a drink and call it an evening, the food is phenomenal. Executive Chef Carolina Santos-Neves  has mastered the art of Continental cuisine prepared with old-world charm, sensibility, and flair, all while using locally-sourced ingredients. Whether opting for the snacks (such as pigs in a blanket or crab rangoon), or something heartier (like the miso black cod, chicken schnitzel, or famous cheeseburger), surely no meal is complete without The Tower Bar ice cream sundae.
Other articles you may like: