The upcoming coronation has London on our minds. While there are nearly unlimited options when it comes to accommodations, Henry's Townhouse stands out. This Grade II listed townhouse in the popular Marylebone neighborhood was the home of Jane Austen's favorite brother, Henry, and the current owners recently completed a painstaking renovation to bring it back to its former glory.
As soon as you arrive at Henry's, its regency period splendor impresses, while the property's hostess cum general manager, Anne, makes you feel right at home. The property is a unique blend of grand and cozy in the best possible way.
The checkered entryway, accented with an ornate gold leaf mirror and ancestral paintings on the walls ushers you into your new home away from home. This six-room boutique hotel is available to book as a whole or room by room. So, whether you are looking for a romantic place for a couple's getaway or looking for a home base for the whole family, Henry's can accommodate you. High-profile guests have also brought in their own chefs and other staff as there is a staff apartment available just off the kitchen. However, if you are traveling like most of us, sans staff, the team at Henry's will make you feel like an aristocrat throughout your stay!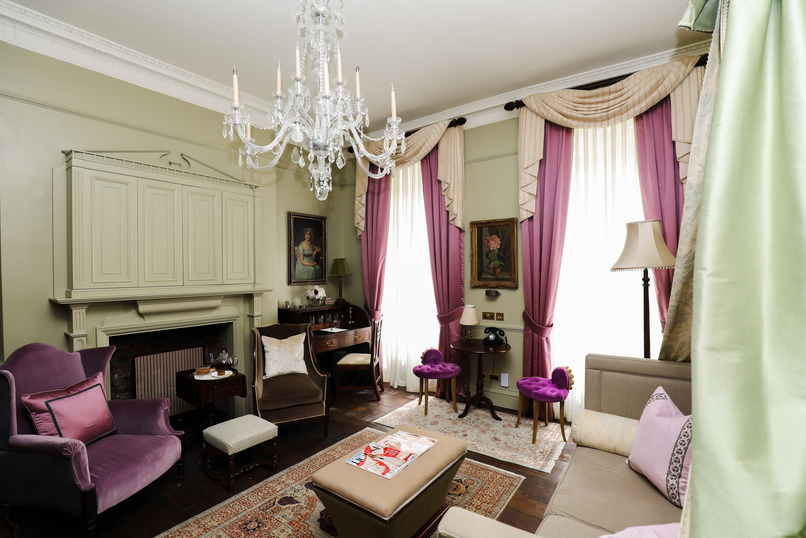 Each guest room has been named after a member of Jane Austen's family and is decorated with the utmost care, in the most British way possible—quirkily chic, but with lots of restraint, so it feels traditional, yet luxurious and comfortable. The owners of Henry's Townhouse, Steven, and Jane Collins wanted to bring the home back to its heyday, while bringing in all the modern conveniences, i.e., there are antique four poster beds, but also Dyson blow dryers and Wi-Fi.
Begin each day with the best Full English you will find in London. The house chef Carola whips up not only homemade beans, pastries, and the perfect eggs, but she also sources some amazing cold-pressed juices and other goodies making a morning fit for a king! There is also a little balcony to enjoy breakfast alfresco in the warmer months.
The property is located just minutes from many of London's popular destinations, so whether you are coming in for the coronation or just a weekend in London, you will have a great vantage point from which to explore all that London has to offer.
And when you return to Henry's after a long day of shopping, exploring museums, and snapping lots of pictures, a glass of champagne will be waiting for you during the complimentary happy hour at 6 pm.
After a few days in this discreet enclave of British-ness, it will be hard to return to any of the chain hotels in town.
Top Takeaways
Location: Marylebone, London
Star-Rating: Five-star
The Vibe: Discreet enclave of British-ness for people looking for a private, local experience.
Our Favorite Thing About the hotel? Enjoying a glass of champagne in the front room at 6 pm each day.
Food + Drink: While there is no restaurant on site, the house chef Carola provides a decadent English Breakfast each morning. And the team is also able to plan and cater formal dinners and parties when pre-arranged.
Any Neighborhood Recs? The property is located just minutes from many of London's popular destinations, but the can't miss in the neighborhood is Marylebone High Street.
Amenities: Cozy outdoor patio Wi-Fi, complimentary happy hour.
What's Nearby? Marylebone, Mayfair, Selfridges, Bond Street
Rooms: 6 rooms, but also available for a full buyout.
Pricing: Rates start at $600/night.
Closest Airport: London Heathrow (LHR)
Other articles you may link: