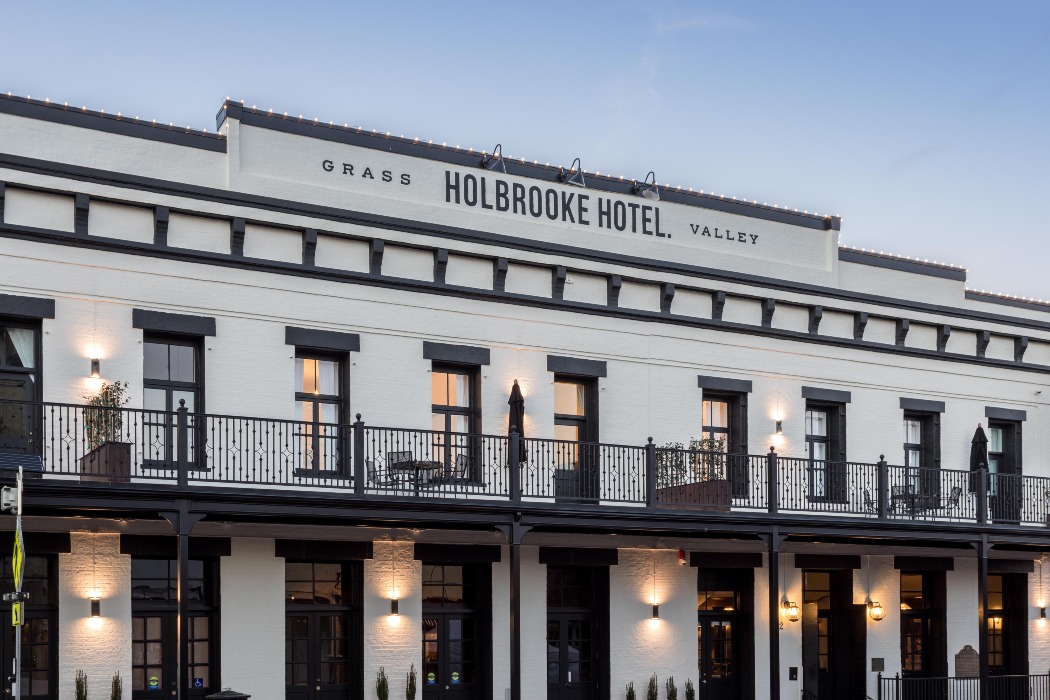 Nestled in Northern California's Sierra Nevada foothills, Grass Valley is reminiscent of its boomtown past. Its Old West thoroughfare, Mill Street, is a time capsule to the Gold Rush, where forty-niners passed through Sacramento pioneering their way to sought-after gold mines. When the trailblazers needed a place to spend the evening, they'd stay at the Holbrooke Hotel — which stands today as the oldest continuously operated boutique hotel in California.
Established in 1862, the authentically renovated California State Landmark blends modern luxuries with rustic-yet-refined design. A classic wood exterior prefixes interiors that marry Wild West and Victorian-style motifs: stag head decor, cowhide rugs, copper trappings, and vintage black-and-white framed photographs adorn the lobby area. Historic touches, including an original iron cash register and an actual hotel guestbook circa 1898, showcase the stay's storied life.
A grand staircase or a rustic iron-caged elevator leads to 17 guestrooms on the second floor. Blurring the lines between old and new, one-of-a-kind antiques contrast contemporary furnishings: white-painted walls complement rugged exposed brick, refined gold-accented fixtures dress en suite bathrooms, and leather tufted bed platforms modernize these comforting chambers. Front-facing rooms receive ample natural light and access to private balconies overlooking downtown Grass Valley.
The Purcell House, an original carriage stable helmed by the Holbrooke Hotel, sits a few steps behind the main building. A bona fide livery sign, archival cowboy-esque photographs, and horseback riding splendors line the hallway leading to the 11 quaint guestrooms upstairs. Refashioned interiors similar to the main guest house display radiant white quarters with repurposed wood embellishments and befitting cast iron horse-shaped door stoppers.
At the helm of one of the longest operating barrooms west of the Mississippi River, the Golden Gate Saloon is the Holbrooke Hotel's iconic recessed wooden bar accented with colorful stained glass and a glossy white marble counter. It's not hard to imagine cowboys moseying into this watering hole for an afternoon whiskey. A contemporary menu mixes fresh California flavors with a dash of Mexico (think Queso Fundido and Smoked Chicken Wings). The Crispy Pig Ears served with avocado mousse, ancho-prickly pear vinaigrette, pickled radish, and red mustard often takes guests by surprise.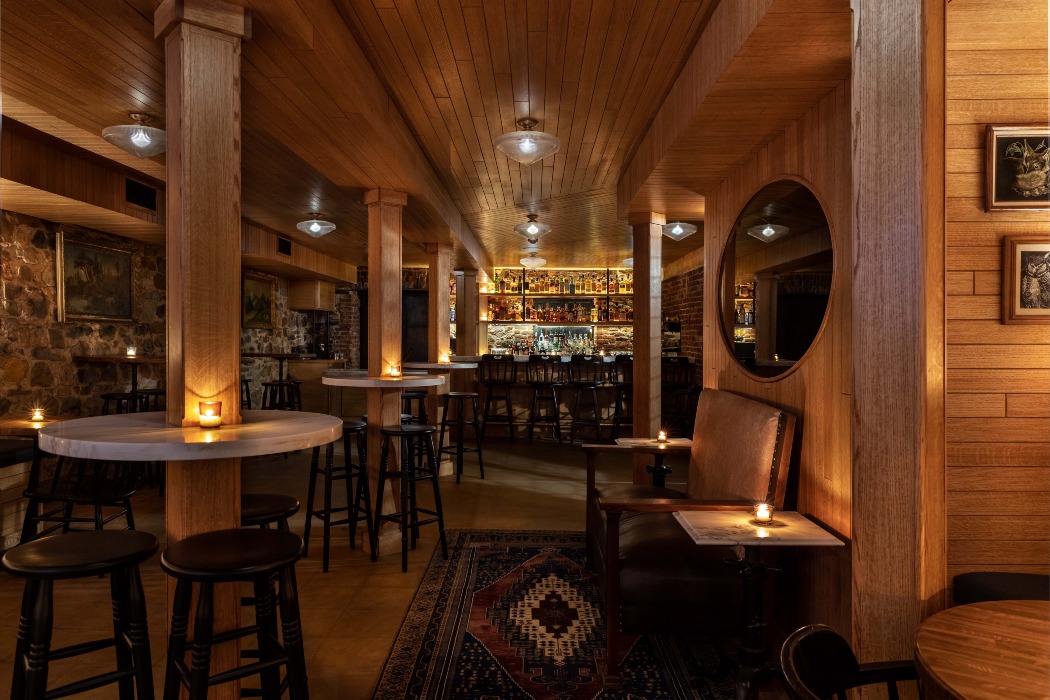 Hidden downstairs is the historic Iron Door: a rumored brothel and speakeasy where they'd sneak alcohol in through underground tunnels during the Prohibition Era. Outfitted with rough stone walls, warm wood ceilings, and amber-hued lighting, this tavern spawns drawn-out conversations over live jazz music with a specialty libation in hand (the Fools Gold cocktail seems fitting on this occasion).
For the history buff travelers, the Holbrooke Hotel is a notable place to recount California's infamous Gold Rush era — where one can quickly envision living in the days of the Wild West.
Top Takeaways
Location: Grass Valley, California
Address: 212 W Main St, Grass Valley, CA 95945
Rating: Four-Star
The vibe: An authentically renovated Wild West boutique hotel that's reminiscent of its Gold Rush history.
Food + Drink: The Golden Gate Saloon serves classic American fare infused with local California ingredients and Mexican-influenced dishes.
Our Favorite Part of the Hotel: The Golden Gate Saloon's original bar front is something straight out of the Old Western films such as Butch Cassidy and the Sundance Kid — and we love boutique hotels steeped in history.
Amenities: Free parking; Free WiFi; Restaurant; Bar; Outdoor furniture; Boutique
What's Nearby? Devere Mautino Park; Empire Mine State Historic Park; Rotary Field; Hirschman's Pond; Calanan Park; Sugarloaf Mountain
Any personal neighborhood recs? Wander downtown Grass Valley's Mill Street for shopping at hip boutiques, such as Goodtimes and Mint, and pastries from Cake Bakery & Cafe or Corvus Bakery. However, our favorite store is right on property at the Holbrooke — Gather & Mill sells vintage Levi jeans and cowboy boots along with the cutest handcrafted home decor.
Rooms: 28
Pricing: Rates start at $159/night
Closest Airport: Sacramento International Airport
Other articles you may like: