The Rajasthani town of Udaipur is one of India's most extraordinary destinations — though, to no surprise, as it was the capital of the Kingdom of Mewar for centuries. Today, that regal legacy remains intact via the medley of 16th-century-built, sumptuous palaces enveloping the shores of Udaipur's centerpiece body of water, Lake Pichola.
Accompanying these aristocratic conclaves is The Leela Palace Udaipur: A resplendent lakeside fortress modeled after the old but outfitted anew.
Superb hospitality starts at first entrance (seriously, this is one of the most thoughtful welcomes we've ever received): A boat ride traverses Lake Pichola and takes you to the hotel dock; after debarking the traditionally decorated vessel, someone from the hotel ushers you down a terraced path to The Leela Palace's lobby; on the way, you receive an even more special greeting — two local musicians play Rajasthani-rooted instruments, and someone delicately sprinkles flower petals from up above.
A sumptuous interior follows: High ceilings, silver-assembled elephants, mythological puppet paintings, and homespun hand-carved marble lotuses span the lobby and other communal spaces. Thekri — a traditional Mewari design that meticulously melds mirror pieces and puts them on plaster — appears ubiquitously throughout the premises.
There's no bad seat here. All of The Leela Palace Udaipur's 80 rooms look out at the lake, a glorious sight that breeds morning gratitude mantras and romantic sunset conversations.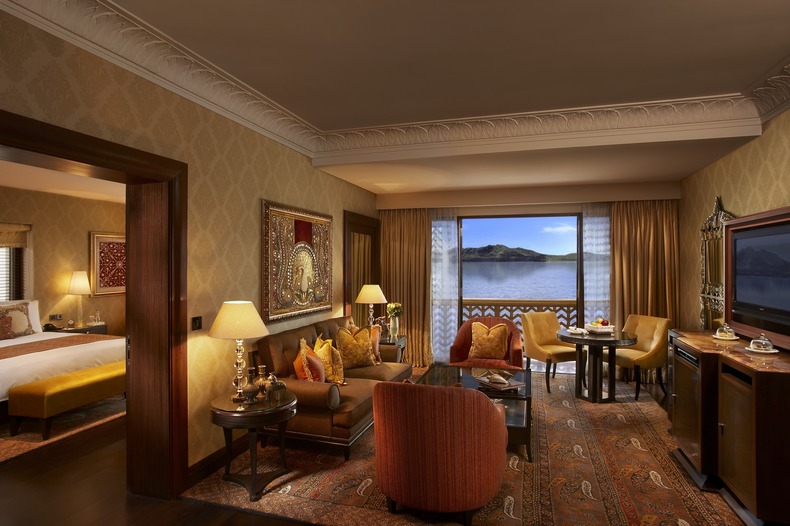 Suites here are nothing short of a sybaritic dream, especially when it comes to the Rajasthani-inspired Maharaja Suite: A main bedroom with its own jacuzzi, royal living room, dining room with a pantry, personal study, private outdoor swimming pool, and terrace garden fill it. But wait, it gets better: You have your own personal butler 24/7 (truly, the service at the hotel is impeccable).
The Spa at The Leela Palace Udaipur is destined to relax you in and out. Situated alongside a guava orchard with an onsite 160-year-old Shiv Temple and Haveli, the spa comprises a clutch of luxe tents: Yoga & meditation sessions, therapeutic treatments, and private pools for basking post-massage await.
Those looking to fine-dine lakeside should grab dinner at Sheesh Mahal, a creme-de-la-creme restaurant offering top-notch Indian cuisine with a mesmerizing view of Udaipur's lit-up town-scape (To say the setting is romantic would be an understatement).
When it comes to grabbing a drink in a debonair scene, The Library Bar is the place to go. The luxe, handsome den features wood paneling, storied books, and exquisite art — if you ask us, it's the perfect atmosphere for a nightcap or glass of wine.
Guests staying at the hotel will also have a salon, fitness center, and heated swimming pool alongside Lake Pichola, at their disposal.
All in all, the hotel is a luxe dream that exceeds every expectation you previously had about Indian hospitality.
TOP TAKEAWAYS:
Location: Udaipur, India
Star Rating: Five Stars
The Vibe: A sumptuous palatial hotel that imbues the impeccable white-glove service that is luxe Indian hospitality.
Food + Drink: There are two restaurants and one bar: The Dining room serves international fare (breakfast buffets here provide a plethora of options — the Upma is a gift to your tastebuds); Sheesh Mahal offers stately lakeside dining and Indian cuisine (the view of City Palace from here is inimitable); and The Library Bar serves as a handsome space for a post-meal drink.
Our Favorite Thing About the Hotel: The hotel's above-and-beyond service blew us away — seriously, the staff is so committed to providing guests with a personalized, hyper-luxe experience. Another favorite was our dinner at Sheesh Mahal, with its stunning views of Udaipur's lit-up City Palace.
Amenities: Pool, fitness center, spa, two restaurants, one bar, and Wi-Fi
What's Nearby: City Palace, Sajjangarrh Monsoon Palace, Sahelion Kyi Bar, Lake Pichola, and Jagdish Temple
Any neighborhood recs? A 25-minute drive from the hotel, travelers should go to the Sajjangarrh Monsoon Palace — it's perched high atop a mountain that boasts mesmerizing views of Udaipur (tell the feral monkeys hanging outside the building that we say "hi").
Pricing: The starting rates for winters is INR 45,000 (USD 544.41); then for summers, INR 30,000 (USD 362.94)
Rooms: 80
Closest Airport: Maharana Pratap Airport Udaipur
Other articles you may like: