Arlo Hotels, the renowned independent lifestyle hotel brand with a footprint in New York, Chicago, and Miami, has officially unveiled its latest gem: Arlo Williamsburg. Nestled in the heart of Brooklyn, this marks Arlo's fourth property in New York, joining its Manhattan counterparts in Soho, NoMad, and Midtown.
Originally opening its doors as The Williamsburg Hotel in 2017, the eight-story tower quickly established itself as a must-visit locale for travelers and locals alike, offering an immersive taste of Williamsburg's eclectic spirit. Under new ownership and management, Arlo Hotels aims to carry forward the legacy of this unique establishment, transforming it into a launchpad for all things local.
Arlo Williamsburg boasts 147 thoughtfully designed guest rooms, including eight suites. Each room is a testament to craftsmanship, featuring richly tiled and textured interiors adorned with authentic reclaimed materials. Floor-to-ceiling windows provide breathtaking vistas of Brooklyn and the iconic Manhattan skyline.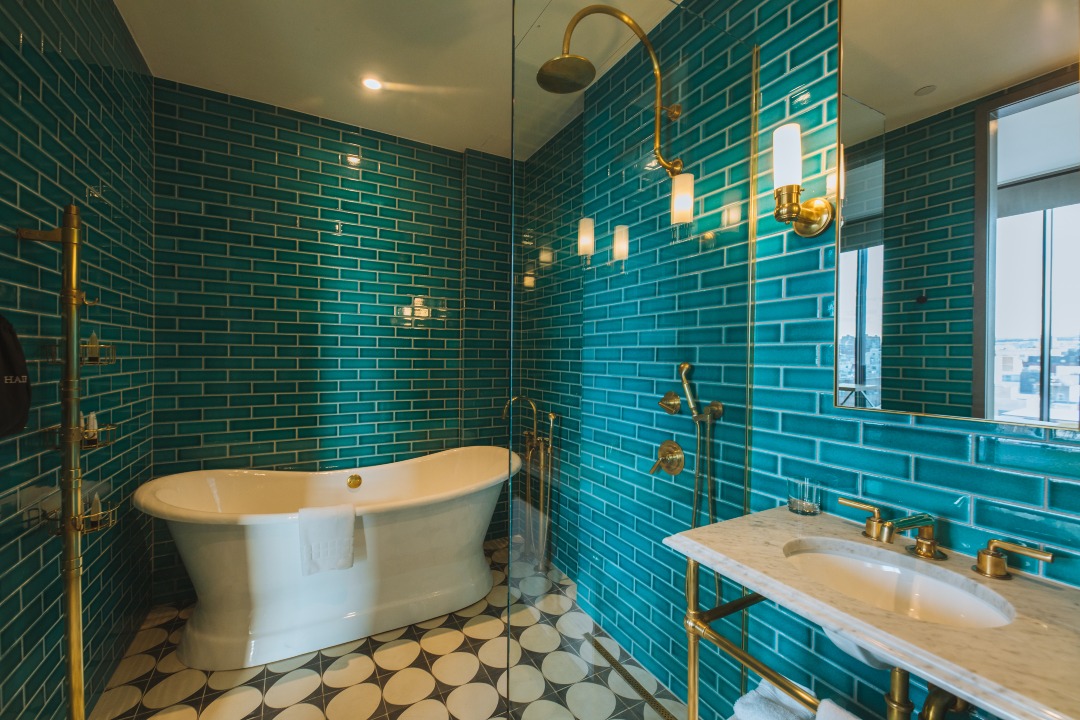 The property's appeal extends beyond its plush accommodations. The recently renovated 10,000-square-foot Rooftop Pool & Lounge offers unparalleled 360-degree views, complete with loungers, cabanas, and a bespoke craft cocktail menu. The Lobby Bar echoes the neighborhood's industrial roots with reclaimed wooden floors and exposed ceiling details.
The exclusive and iconic Water Tower Bar upholds its long-standing reputation as an entertainment destination. Here, guests can unwind on plush velvet chairs and sofas while savoring exceptional food and drinks against a backdrop of dramatic Manhattan views that stretch as far as the eye can see.
The culinary offerings at Arlo Williamsburg are equally exceptional. The Williamsburg Restaurant, curated by Chef Michael King, focuses on crafting dishes using locally sourced and organic seasonal ingredients. The industrial architecture, with brick walls and show-stopping pendant lights, creates a captivating atmosphere.
Other highlights include the Mirror Bar, a dynamic private event space and semi-secret club with French Empire crystal chandeliers and luxurious velvet sofas, as well as a 6,500-square-foot grand ballroom.
In keeping with the Arlo brand experience, Arlo Williamsburg features Arlo's signature Deep Wood scent in the reception and lobby space. Travelers can enjoy fun and unique in-room amenities, including fortune cookies and on-demand fitness videos in partnership with Alo Moves. Additionally, the hotel offers access to the local Brooklyn Athletic Club and complimentary bike rentals.
Arlo Williamsburg embodies the essence of Brooklyn's ingenious spirit while offering a vibrant and immersive stay. Whether seeking a luxurious getaway or a local adventure, Arlo Williamsburg invites travelers to explore the heart of North Brooklyn in style.
Top Takeaways
Location: Williamsburg, Brooklyn, New York
Rating: Four-Star
The Vibe: The Arlo Williamsburg embodies the eclectic and artistic spirit of Williamsburg.
Food + Drink: Water Tower Bar is an iconic fixture of the vibrant Brooklyn bar scene, providing exceptional food and drinks to enjoy while taking in the unparalleled views of the Manhattan skyline. The Lobby Bar features a sophisticated cocktail menu while the on-site restaurant––The Williamsburg Restaurant––focuses on crafting dishes using locally sourced and organic seasonal ingredients. Mirror Bar is the emerald-hued private event space, performance venue, and semi-secret club. The ART Williamsburg, the rooftop pool & lounge, offers unmatched views with a bespoke craft cocktail menu.
Amenities: Outdoor swimming pool; Rooftop lounge; Immersive art in public spaces; Arlo's signature Deep Wood scent; Fortune cookie room amenities; On-demand in-room fitness videos in partnership with Alo Moves; Access to the local Brooklyn Athletic Club; Complimentary bike rentals
Our Favorite Thing About the Hotel: The Arlo Williamsburg partnered with pioneering artists Brooke Einbender (aka Mindbender Art) to create immersive art for each of the elevators and the LA-based Ryan Wilson (aka ThankYouX) to create a 20-by-23-foot mural for the Water Tower Bar––his first graffiti art piece since 2021. A rainbow installation by local street artist Eric Rieger (HOT TEA) adds a touch of vibrancy to the chic Lobby Bar outdoor patio.
What's Nearby? Bushwick Inlet Park; Grand Street Garden; Grand Ferry Park; Domino Park; East River Park; Bedford Avenue
Any Personal Neighborhood Recs? With its prime location in the heart of North Williamsburg, there are endless opportunities for afternoons bopping around vintage shops––such as Chickee's Vintage, Artists & Fleas, Regeneration, and Wonders of Walter––and evenings of barhopping––like Café Balearica, Hotel Delmano, Bar Blondeau, Dolly's Swing and Dive, and Westlight.
Rooms: The hotel features 147 well-appointed guest rooms.
Pricing: Rates begin at $257/night.
Closest Airport: LaGuardia Airport
Other articles you may like:
HOTEL REVIEWS
The Moxy Williamsburg Captures This Brooklyn Neighborhood's Creative Spirit
---
We've said it once and will say it again: Brooklyn is Manhattan's coolest neighboring borough, booming with stylish hotels, hip restaurants, and trendy boutiques. Located in Brooklyn's Williamsburg neighborhood is Moxy Brooklyn Williamsburg: a design-savvy stay by Stonehill Taylor that's situated on the lively-store-and-restaurant-abundant Bedford Avenue.
At check-in, you notice how an airy ambiance permeates the lobby with soaring 20-foot ceilings and natural design elements: light hardwood trappings, modern light fixtures, and green foliage dress the open-layout space. The Moxy's playful nature is on display, from the pop art-painted skateboard wall decor to the vintage arcade machine for guest enjoyment. A show-stopping piece sits behind the front desk: an art installation made entirely of crayons that displays the underbelly of the Williamsburg Bridge at sunrise, looking from Brooklyn toward the Manhattan skyline.
Sticking to the theme, an alphabet-token-decorated elevator leads visitors to the 216 guestrooms and suites. The compact, studio-style corridors are outfitted with space-saving amenities: upholstered beds hosting built-in storage compartments, folding wall stationeries, hidden wardrobe racks, and embedded bathrooms, to name a few. Minimalist artworks, including a stencil-drawing designed wood headboard, accompany the room's cool-toned color palette. Natural light spills into each compact space from floor-to-ceiling windows, giving way to the Manhattan cityscape — the Empire State Building, One World Trade Center, and Williamsburg Bridge are all visible.