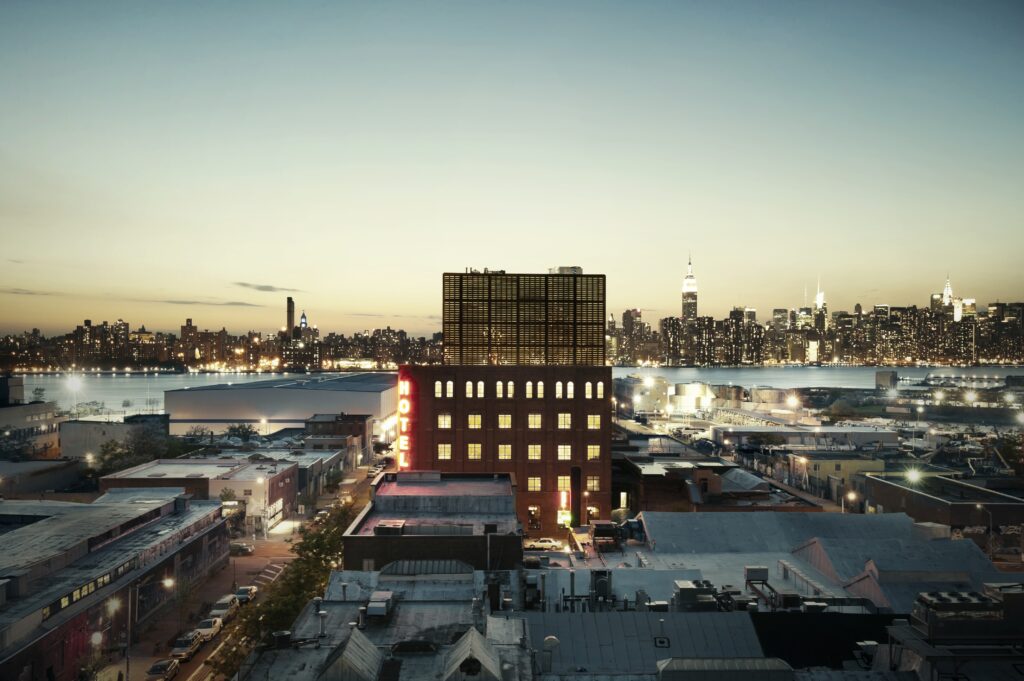 For those sold on Manhattan, let us tell you about Brooklyn — the undeniably cool, less-imposing side of the river that imbues hipster chic vibes in every way. Heading to our favorite flourishing Brooklyn neighborhood Williamsburg, buzzy rooftop bars, swanky restaurants, and design-centric boutique hotels are popping up on every street corner. Whether we're spending the day or night in the area, we're undoubtedly heading to the Wythe Hotel: An uber-cool boutique hotel reminiscent of Brooklyn's industrial roots.
Stepping into the Wythe, original features from its earlier use as a former coopery (an old term for a barrel-making factory) are apparent throughout the public spaces and guestrooms: Rugged wood ceilings, exposed brick walls, and factory windows add to the stay's bona fide ambiance. Infused with custom decor, uniquely printed wallpapers, and local artwork — black-and-white portrait photographs of the hotel staff add a charming personal touch to the elevator walkway — the Wythe seamlessly blends modern attributes with historical elements.
While Industrial architecture can appear cold, the 70 guestrooms and suites are as warm and inviting as ever. Blueprinted with the same rustic yet contemporary fashion, wood beam beds are dressed in bright white bedding and backdropped by elegant Chateau Toile blue-and-white wallpapers; accent pieces, including mint green side tables and antique alarm clocks, add a vintage flare. Additionally, the floor-to-ceiling factory windows allow for sweeping views of the Manhattan skyline. Bathrooms include stainless steel shower fixtures, luxe toiletries, and luminous vanities ideal for getting ready before hitting the hotel's dining scene.
Starting with the sixth-floor Bar Blondeau, this French-style rooftop bar is the perfect place to sip a delicious drink while taking in views of the unobstructed cityscape. The seafood-forward menu fuses French, Spanish, and Portuguese cuisine (think: Prawns Cocktail, Pan Con Tomate, and Chanterelle Croquettes) served alongside signature cocktails such as the Paradiso — spiced rum, Amontillado Sherry, mint, and Prosecco. Open until midnight during the week and 2 a.m. during the weekends, this can either be a light cocktail hour or nightcap spot depending on what evening plans look like. 
Downstairs just to the right of the main lobby sits Le Crocodile: The Wythe's worth-raving-about French-inspired brasserie. The á la carte menu offers a medley of sharable dishes, ideally portioned main courses, and sweet treats for dessert. (We recommend ordering ½ Dozen Oysters and Leeks with Vinaigrette and Hazelnuts to start, followed by Joyce Farms Steak Tartare with Capers and Mâche as a main and Crème Brûlée to top it off.) Design-wise, Industrial-chic interiors, and dimly lit light fixtures create the best dinner ambiance.
It's no surprise that the Wythe Hotel wins us over — its award-winning restaurant, dazzling rooftop bar, impeccably authentic interiors, and prime location have us convinced that Brooklyn is raising the stakes when it comes to ranking amongst the best places to visit in New York City.
Top Takeaways:
Location: Williamsburg, Brooklyn
Rating: Four-Star
The Vibe: An uber-cool boutique hotel reminiscent of Brooklyn's industrial roots.
Food + Drink: Bar Blondeau and Le Crocodile are both French-style eateries that are absolutely worth trying, regardless of whether you are staying at the Wythe Hotel or not, it's a Williamsburg staple in our opinion. Curated wine and craft cocktails are served alongside French, Spanish, and Portuguese-influenced seafood dishes.
Our Favorite Part of the Hotel: The Industrial-chic design from the restored wood beam ceilings to the exposed brick walls is hard not to love, but our favorite part of the Wythe is the city skyline views from the moody Bar Blondeau on the sixth floor.
Amenities: Free WiFi; Pet Friendly; Room Service; Facilities for disabled guests; Restaurant; Bar
What's Nearby? Brooklyn Bridge; Bushwick Inlet Park; 61 Franklin Street Garden; Father Studzinski Square; WNYC Transmitter Park; Grand Street Garden
Any personal neighborhood recs? Walking to Bedford Avenue — just two streets down from the Wythe Hotel — for an afternoon of leisurely shopping around vintage clothing store Rugged Road & Co and The Little Brooklyn Market is always a fun way to spend the day. More top-notch places to eat, drink, and explore can be found in our official guide to Williamsburg.
Rooms: 70
Pricing: Rooms start at $200/night
Closest Airport: LaGuardia Airport
Other articles you may like: