Within Los Angeles' sprawling urban landscape lie some of the most visually captivating cocktail and wine bars. From rooftop hotspots to unassuming speakeasies, discover the prettiest cocktail and wine bars in the City of Angels.
---
Aptly named for Mexico's native flower, Dahlia boasts a remarkable selection of high-end, rare, and small-batch liquors, all meticulously chosen to elevate the art of mixology. The interior design by internationally renowned designer Kelly Wearstler draws from Mexican, Spanish, and Moroccan influences that echo throughout the rest of the hotel. 
---
Situated beneath the iconic Venice sign and directly next to its sibling restaurant, Great White – Venice, Gran Blanco bridges the gap between restaurant and cocktail lounge. Located in the historic former Bank of Venice designed by Abbott Kinney himself, guests can unwind to vinyl soundtracks and relish seasonal cocktails. The cozy ambiance features natural wood, woven textiles, vaulted ceilings, and marble.
---
Stumble too far from Rodeo Drive, and you may end up in The Wizard of Oz's Emerald City…that's not what "they" say, but that is what you may think upon stepping into Sur le Vert. Inhabiting the ground floor of the short-lived Tommy's, the Tabula Rasa team is bringing unconventional natural wines and elevated yet plentiful bar bites to Beverly Hills.
---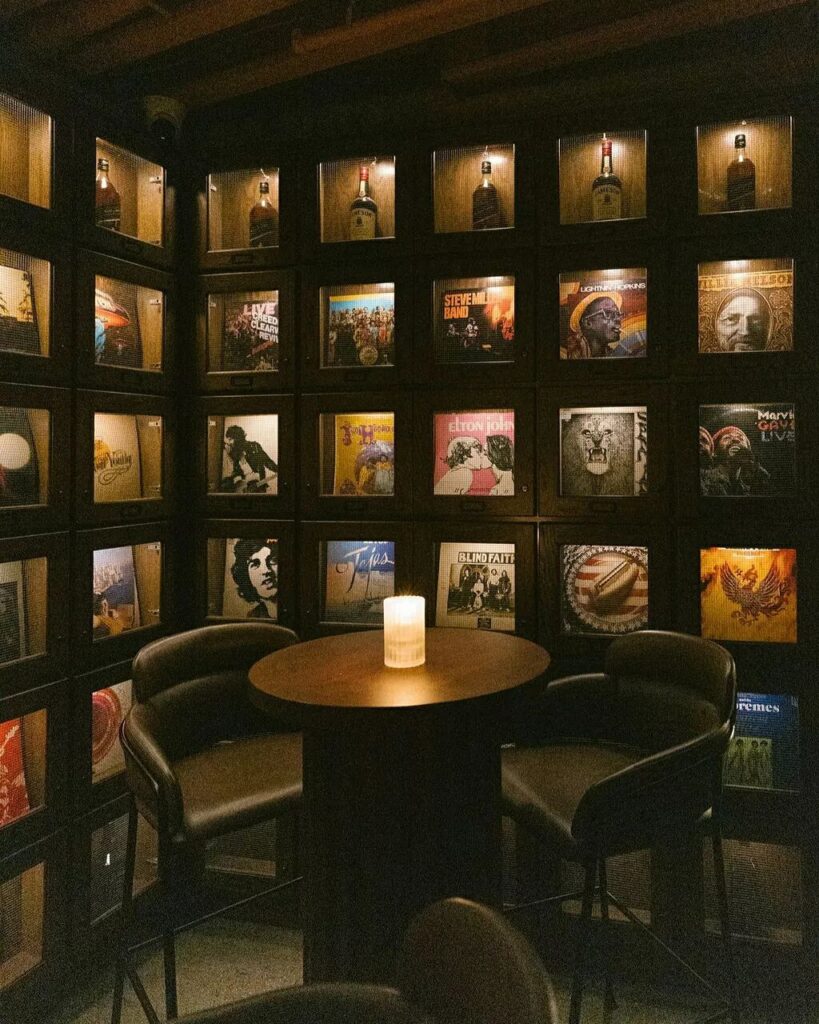 From the Australian hospitality team behind E.P. & L.P., Grandmaster Recorders is a sprawling 15,000 sq. ft. multi-level venue in the Vinyl District that was once a hit-making studio. Below the glow of the disco ball and stage lights, discerning music history lovers will delight in knowing that this cocktail bar, lounge, and live music venue is set directly within the walls of the former legendary recording studio.
---
Anchored in the same building as the Moxy and AC Marriott Hotels, The Houston Brothers are pushing the envelope with their fabulous new multi-dimensional hospitality showcase, Level 8. The first of its kind, Level 8 ushers in eight experiences catered to guests' every need. Our favorite is Mr. Wanderlust, a late-night piano bar and jazz lounge that serves an eclectic mix of cocktails inspired by the worldly travels of the fictional adventurer's namesake.
---
Perhaps you've been in search of certified vegan libations, or perhaps you might not know how desperately you need them. Regardless, A Plant Bar (aka APB) offers just this, all of which are intended to be paired with their plant-based sushi. This veggie-centric cocktail den breathes new life into the Melrose Avenue nightlife scene. Uniquely, the place goes completely dry on Sundays, allowing their myriad of non-alcoholic beverages to take center stage.
---
At Bar Clara, a rooftop haven in the heart of Downtown Los Angeles, stunning panoramic views set the scene for a vibrant cocktail experience. Named for Claire Giannini, Bar Clara embodies her spirit of inclusivity and innovation. With a vibrant mural by local artist Jessalyn Brooks and an intriguing sculpture from Il Parco dei Mostri in Lazio, Italy, you may almost forget you're still in SoCal while laying out on a poolside chaise, sipping one of the whimsical cocktails or carefully curated wines.
---
Nestled within the lobby of the Santa Monica Proper Hotel is this lounge influenced by the Balearic islands filled with original art pieces. Carved-out niches provide the perfect space for canoodling when the lights are low, though the best seats are around the monolithic bar displaying a bamboo reed mural by local artist Ben Medansky. Enjoy intentional cocktails crafted with small-batch spirits.
---
Noir
When a bar cites its influence as a "Parisian brothel," it's unlikely that it will live up to the expectation. However, with Adolfo Suarez's keen eye for design, Noir has truly hit its mark. Decadence and opulence are truly at play here, with dazzling Art Deco-inspired elements, including an expansive glass bar. Beverage Director Ryan Sweeney delights bar-goers with his Roaring Twenties-era signature sips (including a saline martini that comes with a chilled sidecar). This is the ideal Hollywood-adjacent place to show a date or some friends that you're in the know when it comes to Los Angeles' bar scene.
Other articles you may like: