Cocktail bars in New York City are a dime a dozen, but those that truly stun are certainly more rare. Check out our list of proverbial diamonds in the rough, that serve both a quality cocktail and an ambiance to match.
Soaring, wood-framed ceilings and a dangling chandelier help to create stunning visuals at speakeasy-style Chapel Bar, which finds its home in a former 19th-century chapel. Considering it is open exclusively to members of Fotografiska, sister bar and restaurant Verōnika, just next door, is also a fabulous option.
Walk through the tall wooden doors within the lobby of New York's hottest new design hotel, and find yourself immersed in architectural splendor. As soon as you're able to peel your eyes from the endlessly ornate ceiling, focus on grabbing one of their signature cocktails, or a bangin' espresso martini.
There is perhaps no bar in New York more romantic in setting than Maison Premiere, an iconic watering hole and oyster bar whose rustic interiors and leafy garden will transport you to New Orleans. Tableside martini service and a robust absinthe menu help to seal the deal.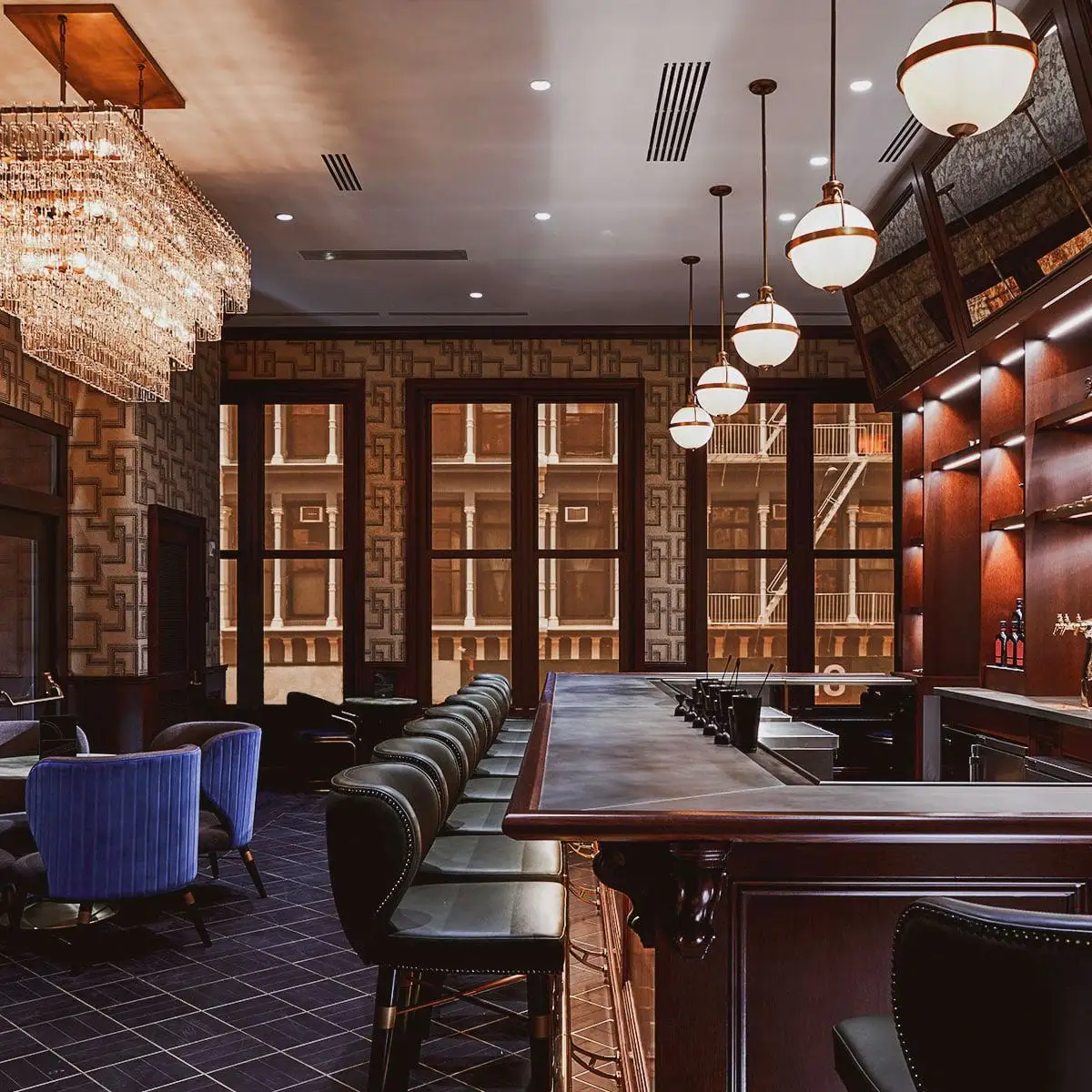 The bar at Great Jones Distilling, Manhattan's first and only whiskey distillery in over 100 years, is the perfect spot to post up following a guided tour. Its cocktail menu plays up the versatility of the spirit, and the space itself, with its spiral staircase and cozy interiors, invites visitors to stay awhile.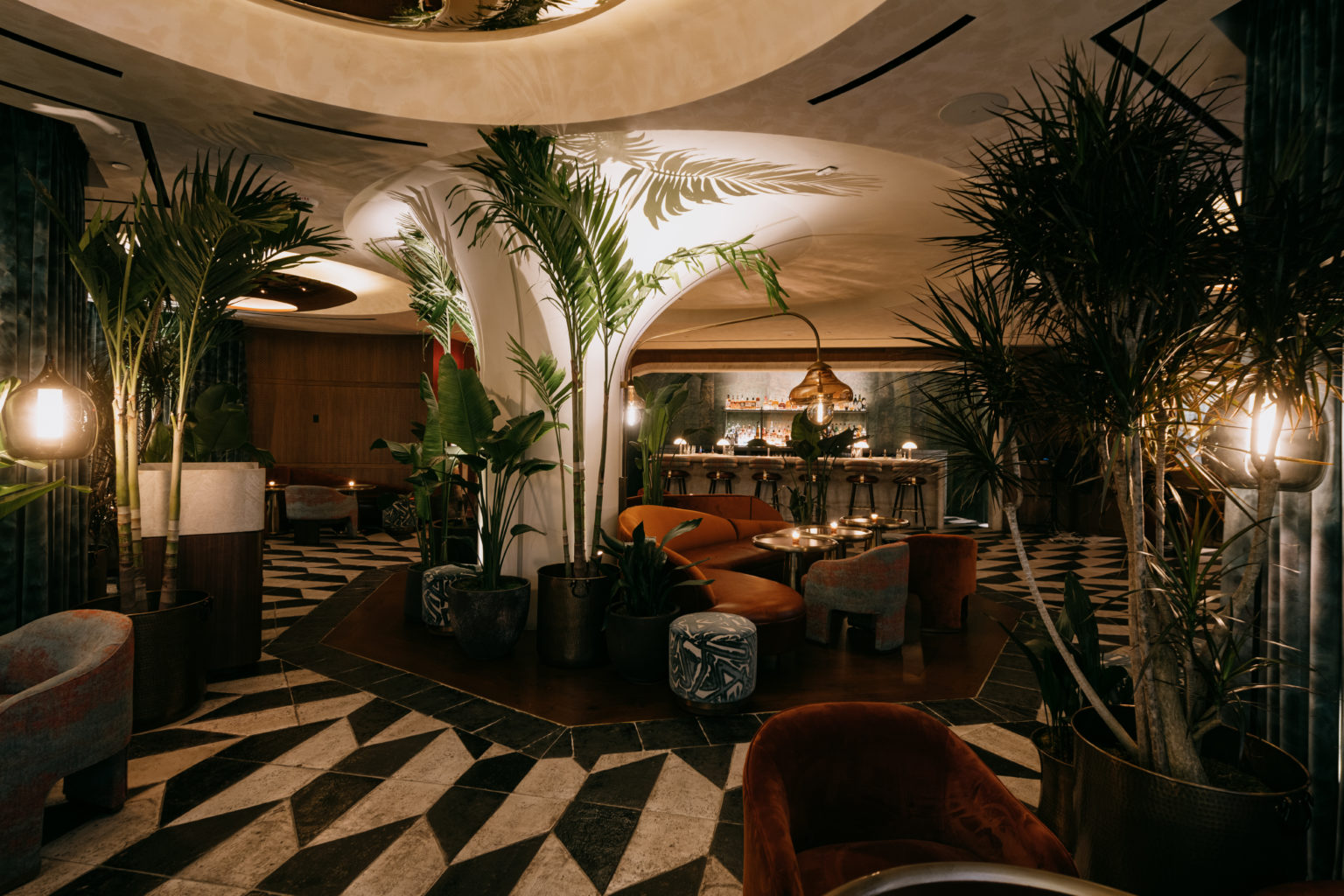 Located on the fourth floor above popular restaurant Zou Zou's, Chez Zou is a lush cocktail bar with jungle-like charm and bold pops of color to spare. Order from their entire menu of coladas for a taste of summer, or stick to the classics with their olive-oil washed dirty martini.
If you've never been to a listening bar (or even heard of one), Eavesdrop is a good place to start. The stylishly minimalist, wood-framed bar places an emphasis on music, inviting visitors to keep their ears perked up for curated tunes that keep the vibe up all night long.
It is unsurprising that the bar at the Baccarat, a brand known for its world class crystal, would provide the ultimate experience in glitz and glam. The gorgeous space is marked by checkerboard floors and robust touches of Baccarat's signature red hue. Those looking to indulge can do so with their signature old fashioned, which will set you back a hefty $55.
Nobody would expect a cocktail bar at a train station to be particularly noteworthy, but the Campbell, tucked within Grand Central Terminal, defies those expectations in spades. A roaring fireplace and window-lit bar top are just two elements of the dazzling space. Sit back with a Manhattan and pretend you're back in the Jazz Age.
When Bar Chrystie opened within the Public Hotel last year, it was called a "modern classic cocktail bar." Hearkening to the glam of the 1920s, its interiors are moody and indulgent, with rich touches of blue and green and unique chandeliers that seem to have "fallen" on either end of the bartop. Do yourself a favor and order a classic martini—it's excellent.
Other articles you may like: