"God save guaracha": chic&basic Habana Hoose is the Scottish-made, Cuban-inspired, 70's punk-powered property situated in Barcelona's Gothic Quarter. Its essence springs from Scottish roots––hence "hoose," not house––with the elegance of colonial Havana, fused with the power of the 1970s British punk era. This hotel has an attitude all its own, with all the strength of the chic&basic hotels' spirit.
From the moment visitors step foot into chic&basic Habana Hoose, they are enveloped in a symphony of colors, patterns, and textures. At the behest of design partners Quintana Partners, the hotel boasts a delightful fusion of vintage inspirations and contemporary elements to create an atmosphere that is both energetic and cozy.
The entrance to the hotel is unmissable: a bright pink sign illuminates the "Habana Hoose" name beneath a green-and-white-tiled awning. Palm tree wallpaper is plastered along each hallway, and adorned with 70s punk and Afro-Cuban band posters. A common area just above the lobby is decked out with plush velvet couches, floral-printed poufs, and brightly striped curtains, and accented with wooden side tables topped with potted plants. In the guest rooms, tartan bed frames and velvet pillows are contrasted by brightly colored lamps with rattan shades.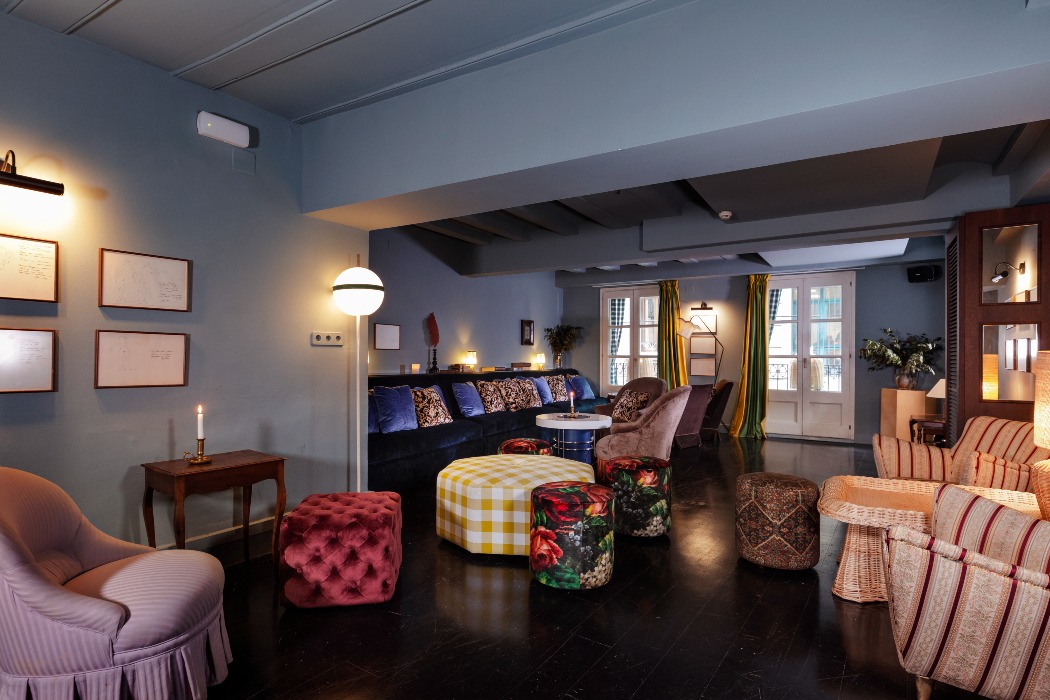 The hotel's philosophy is encapsulated in its name: chic, basic, and smart. The team behind chic&basic hotels believes in the beauty of simplicity combined with a touch of sophistication. This ethos resonates throughout each of their properties, from themed furnishings to clever use of space. The result is an environment that feels both effortlessly chic and ingeniously functional.
A total of 43 guest rooms occupy the 18th-century building in which chic&basic Habana Hoose occupies. Travelers can choose from three different room categories to fulfill their needs: the Single, Double Deluxe, or Double Deluxe with Balcony. Each room features a harmonious blend of modern amenities and vintage charm. The views overlook the medieval streets of the Born district.
Tucked within the lobby is Carmina, a spirited concept from Isabella's Group inspired by the idea of a 19th-century old traveler's house where the best dishes are served for two pesetas to people passing through. Built around the central glazed patio, with original restored paintings and overflowing with lush greenery, Carmina serves "Italian tavern cuisine" all day long. The dining room and bar evoke a Cuban colonial house, while the warm, reddish colors and textures summons the Caribbean with a cosmopolitan touch.
For travelers in search of a "do not disturb" sign and a Single Malt Scotch, this hotel is truly the place.
Top Takeaways
Location: Gothic Quarter, Barcelona, Catalonia, Spain
Rating: Three-Star
The Vibe: Scottish house (Hoose) meets Havana, Cuba (Habana) with a 70's punk vibe.
Food + Drink: Carmina is the hotel's dedicated beverage and gastronomic destination, serving fresh Italian cuisine.
Amenities: Air conditioning; Elevator; Bar; Restaurant; Free WiFi; Airport shuttle; 24-hour front desk
Our Favorite Thing About the Hotel: Ideally situated within the Gothic Quarter, the hotel is just a stone's throw away from many of Barcelona's top attractions, restaurants, bars, and shops.
What's Nearby: Arc de Triomf; Plaça Catalunya; Picasso Museum; Casa Batllò; Barceloneta Beach; La Pedrera
Any Personal Neighborhood Recs?: Hidden in plain sight within the tourist-run alleyway of Carrer Montcada, Bodega La Puntual is a contemporary tavern housed within a building dating back to the Middle Ages. Nosh on an array of Catalonian tapas while sipping wine or vermouth.
Rooms: There are 43 guest rooms.
Pricing: Nightly rates begin at $142/night.
Closest Airport: Barcelona El-Prat Airport
Other articles you may like: