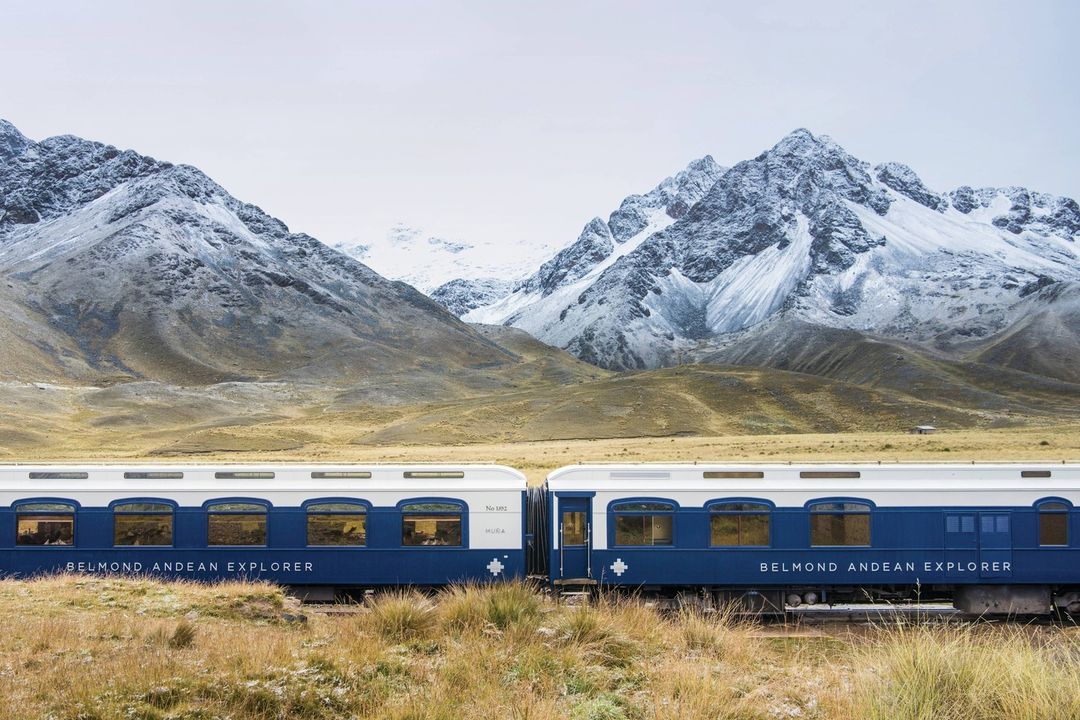 While train travel may not hold the same level of prestige as it once did, the world's most lavish rail journeys prove that refinement, allure, and grandeur still exist within this mode of transportation. These nostalgic voyages to a bygone era of slow travel present passengers with the world's most stunning landscapes and rich cultures. With amenities that rival those of five-star hotels, unforgettable scenery that changes with each passing mile, and tantalizing gastronomy, these journeys cater to discerning vacationers seeking a more leisurely pace and deeper immersion in the world's most fabled destinations. From routes through the viridescent rolling hills of the English countryside to the rugged terrain of the Australian outback, discover the most luxurious train rides that money can buy.
---
British Pullman, A Belmond Train (England)
The British Pullman pays homage to the golden age of travel on a luxurious expedition from London through the bucolic English countryside. Each carriage has been beautifully restored to its original Art Deco design with polished brass fixtures, etched glass, mahogany paneling, and rich fabrics. Enjoy silver service with the finest seasonal cuisine from the British Isles, paired with fine wines and indulgent extras for an unforgettable dining experience.
---
Golden Eagle Trans-Siberian Express (Russia)
The Golden Eagle Trans-Siberian Express is a century-old journey covering 5,600 miles from Moscow to Vladivostok, offering stunning views of the Taiga forests, the steppes of Mongolia, and the mountains of Lake Baikal. Deluxe cabins have en-suite bathrooms, panoramic windows, and plush bedding. Passengers can participate in activities such as Russian language lessons and live piano performances, or unwind in the train's bar.
---
The Ghan (Australia)
Traversing the Australian Outback doesn't always have to be a rugged and dusty affair. The Ghan Expedition stands out as one of Australia's top luxury train routes, providing a four-day excursion through the Red Center, from Darwin to Adelaide. Although the train has been running since 1929, it has been fully refurbished to deliver all the comforts of contemporary travel. Off-train excursions include visiting the bucket list-worthy Uluru and a tour of Katherine Gorge.
---
Venice Simplon-Orient-Express, A Belmond Train (Europe)
Immortalized in fiction and cinema, the Venice Simplon-Orient-Express has reigned as the most famous train in the world since its Belle Époque debut, when it became. Today's train transports guests from London to Paris, Verona, and the meandering canals of Venice, with the latter being the flagship itinerary. Opulent private cabins are adorned with sumptuous Art Deco-inspired fabrics, polished brass fixtures, and intricate wood paneling. Table d'hôte meals crafted by chef Jean Imbert feature ingredients sourced from stops along the route, like succulent lobsters from Brittany and fresh-made pasta.
---
Rovos Rail (South Africa)
Roving from Cape Town to Pretoria, this three-day rail journey reveals the diverse landscapes of South Africa, from the grasslands of Highveld to the desert of Great Karoo. The train's deluxe cabins are spacious and elegantly furnished, featuring en-suite bathrooms, air-conditioning, and private open-air balconies. Passengers can enjoy the stunning view as the train stops in the Cape Winelands, or off-train excursions like drives inside Big Five game reserves like Kruger National Park and a tour of the gold mines of Johannesburg
---
Andean Explorer, A Belmond Train (Peru)
Ride from the ancient capital of Cusco through the Andean Plains on one of the highest-elevation train routes in the world—fueled by pisco sours and exquisite Peruvian cuisine, of course. Along the way, guests can immerse themselves in the region's authentic cultural sites and natural wonders, like the bustling markets of Cusco and majestic Lake Titicaca.
---
Rocky Mountaineer (Canada)
The Rocky Mountaineer offers breathtaking journeys through Western Canada, taking passengers on a scenic trip between Vancouver and Banff, Calgary, and Jasper. The train winds past vast glaciers, emerald lakes, and rushing rivers. Wildlife sightings of bears, elk, and eagles are frequent on the route. Book a trip in the winter months for snow-capped peaks and endless fields of pristine powder.
---
Seven Stars Kyushu (Japan)
The Seven Stars Kyushu courses through the rural villages and stunning coastal areas of the island of Kyushu in Japan, including Kagoshima (famous for its hot springs), Ibusuki, and the Aso volcanic plateau. Fans of Japanese design will appreciate the traditional style of their cabins, which boast tatami mat flooring and paper lanterns. Passengers can also participate in cultural activities, such as tea ceremonies and traditional music performances, enhancing their journey with a deeper understanding of Japanese culture.
Other articles you may like: