Before they opened The Goodtime Hotel, one of the most energizing additions to the South Beach scene in 2021, the enterprising David Grutman of Groot Hospitality and music industry hitmaker Pharrell Williams made their collaborative debut on Miami's mainland with the equally retro-spirited Swan in 2018.
Located in the city's booming Design District, Swan radiates a fashionable, upbeat aura that has become synonymous with fellow local Groot ventures, including the multi-level Southeast Asian restaurant Komodo, the carnivorous-minded Papi Steak, and the Tokyo-inspired Sushi Fly Chicken.

Swan attracts diners for the glorious people-watching as much as the fresh, artfully plated dishes like a delicate snapper ceviche studded with Fresno chiles and crispy plantains and king salmon atop avocado-strewn farro. Comfort food is also relished here, in the form of, say, spicy salami pizza or bread pudding that reinterprets lemon meringue pie.


No matter the time of day, tables teem with cocktails in a spectrum of bright hues, including the tall butterfly pea-tinted tequila and shōchū Purple Reign and seashell-colored Fleur de Rose. This refreshing libation, composed of vodka, Italicus, rose, and lime, perfectly complements the pastel interiors that transport patrons to a tropical 1920s supper club.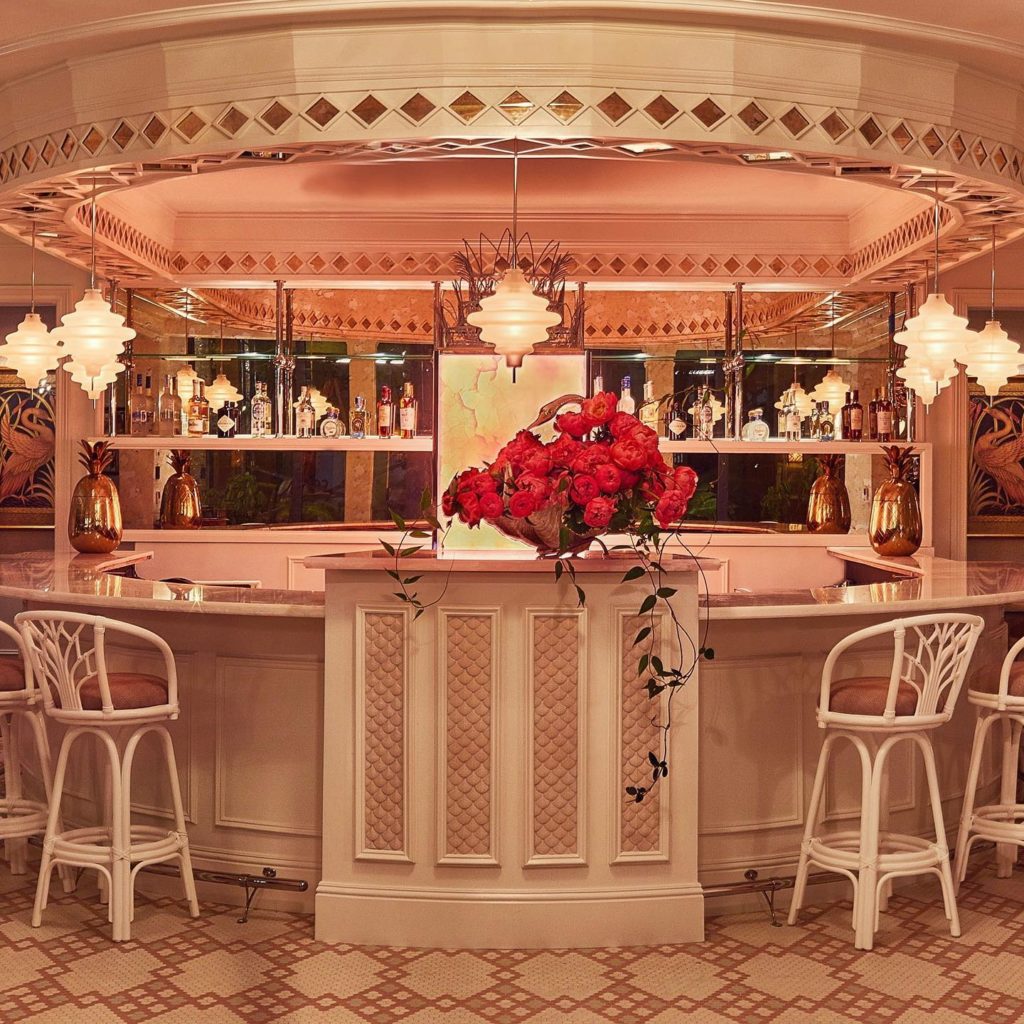 San Francisco- and New York-based designer Ken Fulk, who also worked with Grutman and Williams on The Goodtime Hotel, conjured a refined but boisterous air at Swan through an overarching palette of pale pink. Blush-toned onyx at the horseshoe-shaped bar is particularly arresting, and the dining room, lined with banquette seating and mirrors, glimmers underneath Art Deco-style lighting.

So much of Miami life unfurls outdoors, and it does at Swan, too, where Fulk's glamorous aesthetic carries over to the courtyard garden. Covered in copious amounts of serene flora, it's a coveted backdrop for Swan brunches, afternoon rendezvous centered on bourbon cinnamon rolls and king crab Benedicts.
Other articles you may like: