Walking into Hotel Josefine feels like taking a step into the modern rendition of the roaring twenties or thirties. The beloved property was built in 1896, but recently underwent a complete renovation and reopened its doors. While the exterior of the property doesn't look like much, walking inside is a completely different experience that takes you back in time. A grand staircase, chandelier, and grand archways greet you upon entering the hotel, which is just a small kismet for what the property has to offer.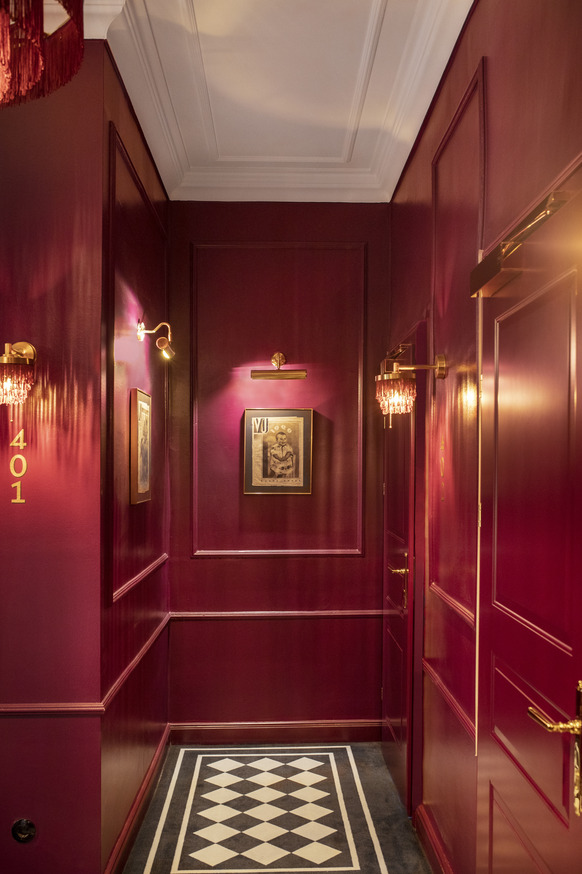 Located in the center of Vienna, the property has 49 rooms with unique details woven throughout that differentiate each from one another. Prepare to find retro-inspired furniture in each room with details like crystal chandeliers, stain-glass windows, standalone soaking tubs, velvet couches, and green marble bathroom countertops.
Influenced by Josephine de Bourblanc, a young artist who settled in Vienna after her escape from the Russian Revolution, inspired the design and story of the hotel. Every room is inspired by the anecdotes of her stories, drawings, and surrealism.
Each room also features headboards with covers made from traditional Viennese woven cane, bringing in the traditional architecture of Viennese Grunderzeit houses into the space. And, we'd be remiss to mention that every bed is outfitted with a regionally handmade mattress with high-quality down duvets and pillows that are made within the country.
After a dinner out on the town, head to the onsite bar, Barfly's Club. The iconic spot has been around for ages and has been a stepping stone for some of the best bartenders in the city. With velvet covered shell-shaped bar stools, small sofas, green marble mirrored walls, and brass elements, the intimate atmosphere feels like walking into a private soiree at Gatsby's home. Sip champagne in tall flutes, drink a glass of whiskey that's poured from polished whiskey tumblers, and take in the laughter and lively conversation that's around you while you're in the chic space.
Guests can also take advantage of the Phonotek, a room filled shelves upon shelves with more than 3,000 records. The space is located right off the main lobby, next to the Honesty Bar, a spot for snacks and drinks at the discretion of each guest. It's a great spot to stop before heading out for dinner or before a drink at the bar downstairs.
It goes without saying, but Hotel Josefine provided one of my favorite hotel stays. The staff was incredibly attentive, the rooms were decorated beautifully, and the property was truly like taking a step back in time.
Top Takeaways:
Location: Vienna, Austria
Rating: Four-Star
The Vibe: A step back into the roaring twenties or thirties with a modern twist.
Food and Drink: There aren't many food options onsite aside from the Honesty Bar, a snack or aperitivo spot in the lobby. However, breakfast is included and available at Barfly's Club or inside your room. After a night out, a cocktail (or two) shall be enjoyed at Barfly's Club, an iconic spot filled with delicious drinks and lively conversation in an intimate space.
Property Amenities: Complimentary bottles of mineral water, included breakfast served in your room or downstairs, and courtesy bottles of local red or white wine upon request.
Our Favorite Thing About The Hotel: From the retro-inspired furnishings to the intimacy of the property, it's hard to choose just one thing that we love about the property. However, the staff truly went above and beyond to help with every aspect of our stay, and it truly showed.
What's Nearby? Schonbrunn Palace, The Hofburg, St. Stephens Cathedral, Belvedere Palace, and the Opera House are just a short car or train ride away.
Any Neighborhood Recs? Alt und Neu Wien, the oldest second hand record store in the city, and Sir Harley Tea, a lovely spot for afternoon tea.
Rooms: 49
Starting Nightly Rate: Rates start at around $150 per night.
Closest Airport: Vienna International Airport (VIE)
Other articles you may like: