With thousands of sun-drenched scattered across the Mediterranean, Greece is the ultimate summertime escape. Of all the country's island groups, it's the Cyclades that tends to capture the attention of most travelers, many of whom spend all year fantasizing about the crystalline waters and whitewashed homes that define the region. When it's time to plan your trip, here are the greatest islands to visit and the best boutique hotels for your stay on each.
Sifnos
Why Visit Sifnos?
This increasingly trendy island is famous for its many draws: its ancient ceramics, gorgeous beaches, and extensive hiking trails. Sifnos also has a reputation for having some of the best food in the Cyclades.
Where to Stay:
For epicures, Verina Hotel Sifnos, a collection of chic boutique hotels and villas on the isle, is a smashing choice. The property grows its own produce, which is featured extensively on the menu at the alfresco Bostani Bar & Restaurant at its flagship, Verina Astra.
Ios
Why Visit Ios?
When it comes to beaches on Ios, visitors are spoiled for choice. Mylopotas Beach is the busiest, lined end-to-end with watersports and beach bars. For a more remote stretch of sand, Tripiti Beach and Manganari Beach are divine. The island is packed with historical sites, like the 18th-century Ios lighthouse, the Bronze Age settlement of Skarkos, and the Tomb of Homer, the most famous poet of Ancient Greece.
Where to Stay:
Post up at CALILO Ios, an eco-minded sanctuary surrounded by the dramatic cliffs of secluded Papas Beach.
Mykonos
Why Visit Mykonos?
You know Mykonos for being the ultimate place to party each summer, with mega-clubs like Scorpios, the new Lío Mykonos cabaret, and extravagant beach clubs like Nammos and Principote attracting the world's glitterati. But the island also has a relaxed side. Venture to wilder beaches like Agios Sostis and Lia for less crowds, and visit the town of Ano Mera in the island's center for a more local ambiance.
Where to Stay:
With nearly all its rooms boasting private pools, Katikies Mykonos in the chill Agios Ioannis district is both relaxed and romantic.
Paros
Why Visit Paros?
For those who want the beauty of Mykonos without the mayhem, Paros has swiftly risen as the best alternative. Sandwiched between Naxos and Antiparos, this island is relatively easy to reach—there's even an airport with regular flights from Athens. Paros has two main villages: Parikia (the capital) and cosmopolitan ​​Naoussa.
Where to Stay:
Hotly-anticipated newcomer Cosme, a Luxury Collection Resort, Paros is opening its doors for the first time this season and is promising to deliver understated luxury with authentic Greek hospitality.
Santorini
Why Visit Santorini?
Santorini's breathtaking landscape continues to lure honeymooners from around the world, but this island is much more than an enchanting backdrop for romantic photos. With dramatic black sand beaches, cliff-hugging villages, and a winegrowing technique found nowhere else on the globe, Santorini is equally enticing to adventure-lovers and gourmands seeking a playground for their passions.
Where to Stay:
Perched on the edge of the caldera in Imerovigli, Katikies Chromata Santorini has 26 cave-like rooms, several infinity pools, and a fabulous new signature restaurant, Chroma.
Serifos
Why Visit Serifos?
Though it's just 2.5 hours from Athens by high-speed ferry, Serifos still remains off the beaten track for most visitors to Greece. Like others in the Cyclades, this island has a rugged landscape sprinkled with the sugar cube homes typical of the Cyclades. The hilltop Chora (main vilage) is particularly charming, though Serifos is known for its outdoors hikes (be sure to trek the mining which winds past the Megalo Livadi bay). A tour of the Chrysoloras Winery is also a highlight.
Where to Stay:
You'll have the best sleep of your life at COCO-MAT SERIFOS, a nature-centric retreat created by Greek mattress firm CocoMat.
Milos
Why Visit Milos?
With moonscape coasts, soaring sandy cliffs, and beaches with technicolor sand, Milos island has some of the wildest terrain in all of Greece. Rent a 4×4 to reach the most scenic spots on the island, like Tsigrado Beach (be prepared to descend down a series of ropes and ladders) and Sarakiniko.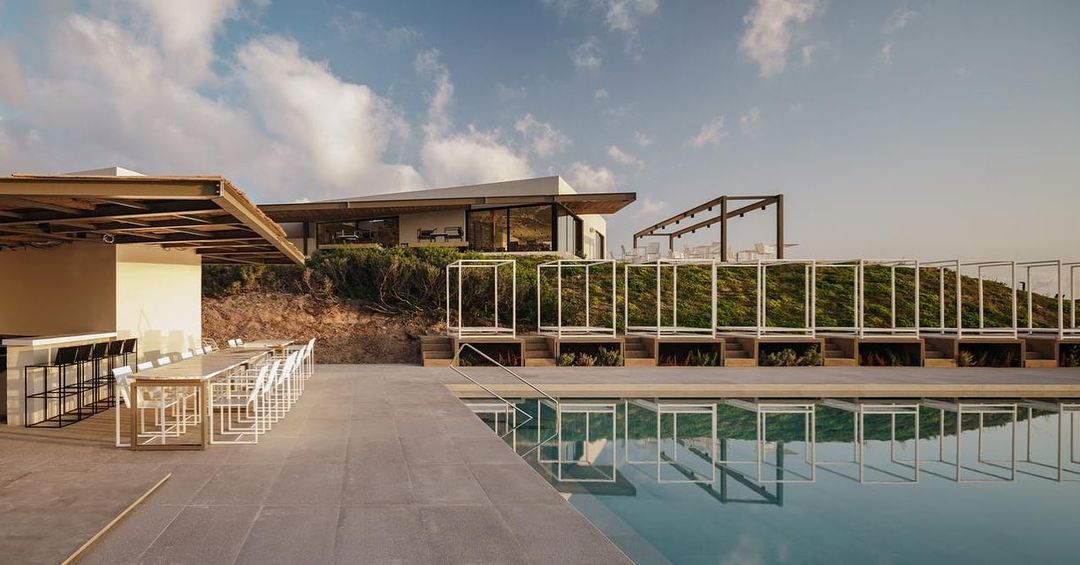 Where to Stay:
There's no other hotel Milos like Milos Cove Resort. Located in a remote corner of the island, the striking compound made up of contemporary block structures is suspended over a private beach.
Other articles you might like: