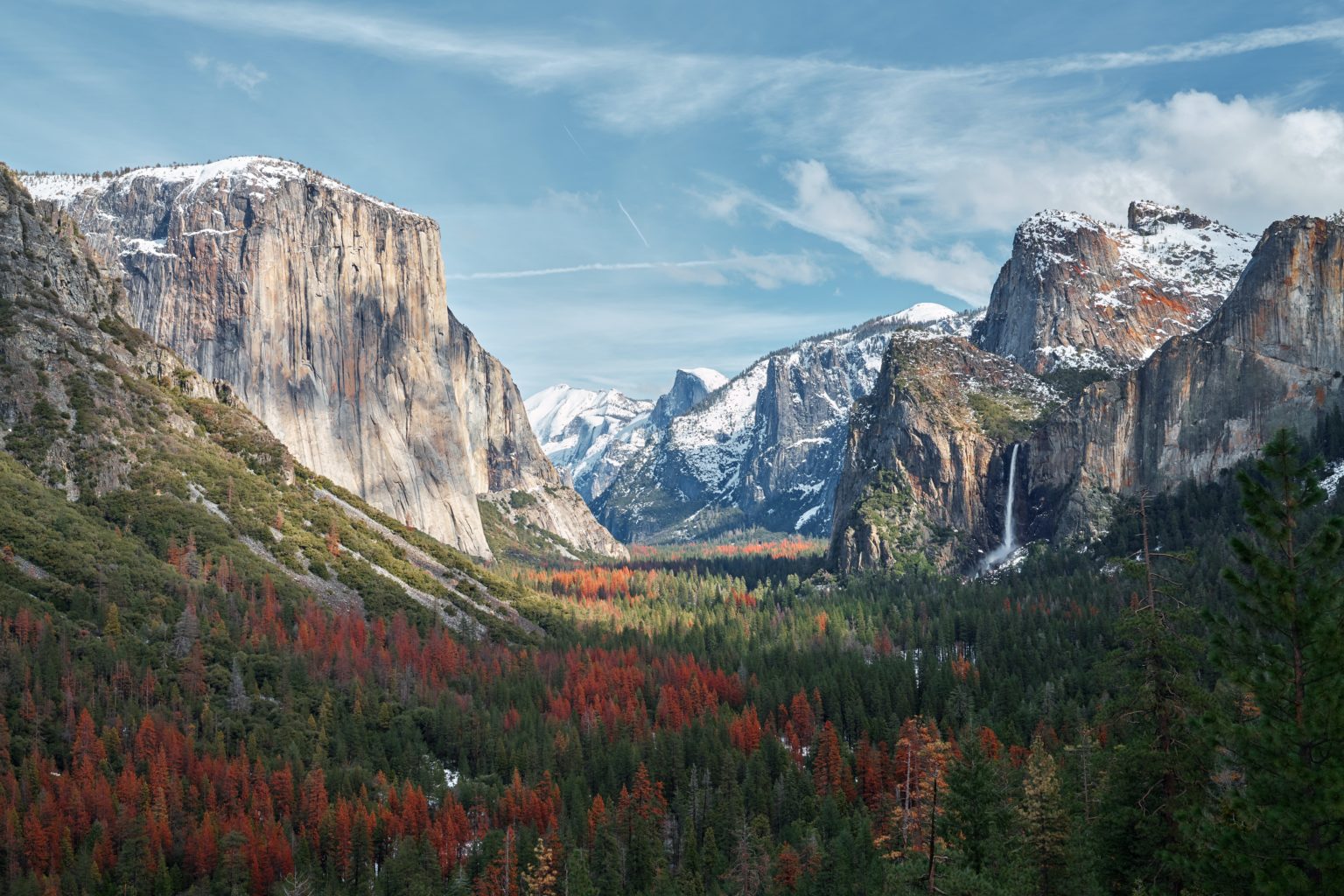 There really is no bad time of year to visit one of California's many national parks. From Yosemite to Sequoia to Joshua Tree, we've rounded up our favorite national parks and the boutique hotels we love staying at when there.
---
Located where the Mojave and Colorado Deserts meet, Joshua Tree National Park is a Southern California gem — chances are, if you have friends in LA or San Diego, they've taken a weekend jaunt here and posted it on their Instagram feed. But, to be clear, we can't blame them for uploading it onto their grid — the hyper-picturesque park is replete with rugged rock formations, level-varied Instaworthy hikes, and its namesake Joshua Trees. 
Closest Airport: Palm Springs International Airport (50-minute drive)
AutoCamp Joshua Tree is unconventional to its core, with its boho-chic airstreams and modernized tent accommodations befitted with hotel suite amenities such as functional kitchenettes and spacious restrooms.
---
Set in California's stunning Sierra Nevadas, Yosemite National Park reels in thousands of visitors from near and far every year. Established in 1890 (not to namedrop on behalf of the park, but John Muir and Teddy Roosevelt trekked through here and raved about it), Yosemite's list of famous features feel never-ending: Half Dome, Yosemite Falls, El Capitan, and Glacier Point are just a few illustrious splendors amongst its 1,200 square miles.
Closest Airport: Fresno Yosemite International Airport (1.5-hour drive)
Hidden amongst the Sierra Nevada mountains, Château du Sureau is a nine-acre castle resort offering 10 elegant guest rooms, including the exclusive two-bedroom Villa du Sureau that feels like a true fairytale.
---
This string of five ecological islands — named the San Miguel, Santa Rosa, Santa Cruz, Anacapa, and Santa Barbara — host over 2,000 wildlife species. Just 22 miles off the coast of Santa Barbara, visitors must hop aboard Island Packers' two-hour boat ride to view the park's unparalleled marine life — including Northern Elephant Seals, Bottlenose Dolphins plus Humpback Whales — while kayaking alongside stunning beaches and majestic sea caves. During your Santa Cruz Island excursion, hike the trail to Pelican Bay, where you will witness pure coastal beauty. 
Closest Airport: Santa Barbara Airport (15-minute drive from downtown Santa Barbara)
Tucked away in Santa Barbara's historic Presidio Neighborhood (an optimal base for your Channel Islands National Park excursion), Palihouse Santa Barbara's Spanish Colonial-style edifice rises only two floors high. Within it are a California-chic lobby dressed in a light-blue palette, 24 rooms stocking vintage and custom furnishings, an internal courtyard sporting café-like seating for under-the-sun conversations, and, towards the back, a sparkling pool amidst garden greenery.
---
Widely known for hosting the world's tallest trees, Redwood National and State Parks feature a medley of landscapes — expect expansive prairies, fertile woodlands, calming rivers and 40 miles of breathtaking Pacific Ocean coastline. The joint parks (we say joint due to the fact that it's made-up of three state parks and one national park) protect over 40,000 acres of an old-growth redwood forest. The largest park of the group, Redwood National Park, hosts the Lady Bird Johnson Grove Trail, an uber-popular 1.5 mile hike that allows trekkers to witness the area's towering trees.
Closest Airport: Arcata/Eureka Airport (30-minute drive)
Once an old, quirky motel, Roosevelt Base Camp is a renewed mountain stay in the charming small town of Orick, California. Notice stag wall art, plush bedding and locally-sourced bathroom amenities at this cozy, boutique hotel
---
Stretching across California and Nevada, Death Valley National Park is known for its scorching temperatures and desert mountains. Visit-worthy spots include Titus Canyon —  several colorful rock formations alongside an eerie ghost town — and Badwater Basin's salt flat — North America's lowest point — this sandscape is unlike anything else. 

Closest Airport: Las Vegas International Airport (2.5-hour drive)
The Inn at Death Valley, which opened in 1927, is a 66-key hotel that exudes old-age Hollywood glamour — back in the day, it was a popular vacation spot for celebs — through its preserved original architecture, vintage art pieces, as well as natural spring-fed pool imprinted with a palm tree-like design at its bottom.
---
Sequoia National Park sits in the southern Sierra Nevadas, adjacent to Kings Canyon National Park (another landscape to keep an eye out for). Famed for its colossal Sequoia Trees — the General Sherman Tree A.K.A "the largest tree in the world" is its most illustrious (it's 275 feet tall and 36 feet wide to be exact) — as well as its underground Crystal Caves, and a granite dome called Moro Rock, this California national park is not to be missed. One of the park's best features is the Tunnel Tree, where tourists drive through the stem of a Sequoia (to say this is Instaworthy would be an understatement).

Closest Airport: Fresno Yosemite International Airport (1.75 hour drive)
This Art Deco-style boutique hotel in Visalia — a town nestled in the foothills of the Sierra Nevadas — is a cute 32-key stay just 45 minutes from Sequoia National Park. Expect 1930s interiors with emerald green velvet couches, plush bedding, and grand ceilings throughout the space.
Other articles you may like: