It's time to start thinking about where we're going to escape the winter blues. January brings a lot of mixed emotions: on one hand, we're thrilled about a new year ahead, but on the other hand, it's the dead of winter, and getting our lives together after the holiday chaos isn't exactly the most fun thing we can think of doing. However, our favorite thing to escape the seasonal depression is to think about where we're jet-setting next. So, here are our picks of where we're thinking of heading in February to either immerse ourselves into the winter spirit or to avoid the cold temperatures and get our warm weather fix.
---
José Ignacio, Uruguay
Once an old fishing village turned high-end resort town, José Ignacio is a luxurious beachside retreat drawing in wealthy travelers and celebrities seeking the ultimate relaxation (think of it as the Hamptons for Buenos Aires and Montevideo). Head to the area's popular surfing beaches, such as Mansa Beach or Bikini Beach, to watch people cruise the waves or simply catch some rays on the idyllic beaches.
Why visit in February? Being it's part of the Southern Hemisphere, it's the summer season in Uruguay during this time. With temperatures in the high 80s and low humidity… this is the place to be for the traveler needing some sun.
Where to stay: Posada Ayana is an idyllic 17-room hotel just steps from the famed Mansa beach. Coastal-inspired interiors decorate the space: light wood furnishings, woven suspended lamps, and floor-to-ceiling windows give way to private gardens and oceanfront views. When it's time to soak in the Uruguayan sun, head to the blissful, green-marbled saltwater outdoor swimming pool for a refreshing afternoon dip.
---
Santa Ynez Valley, California
The Santa Ynez Valley — wine country right outside Santa Barbara — is chock full of sweeping vineyards and coastal countryside vibes. It's also the host region for charming California towns, Solvang and Los Olivos.
Why visit in February? Valentine's Day is exceedingly romantic when spent in idyllic California Central Coast wine country, coupled with vineyards, plus opportunities to taste different varietals at the area's beguiling wineries. Head to Santa Ynez Valley's Alisal Ranch and book their three-day Romance at the Ranch package, which includes horseback riding, golfing, cooking, wine-tasting, cocktail-making, and dancing classes with your significant other.
Where to stay: Tucked away in Santa Ynez Valley, Alisal Ranch is a luxe ranch resort with 10,500 acres to explore. Dating back to 1810, the ranch honors its American-West history through its design: 73-guest cottages boast authentic Western-inspired architecture with vaulted ceilings, wood-burning fireplaces, and outdoor patios. From the 110-acre spring-fed lake providing fly fishing and canoeing opportunities to two 18-hole championship golf courses, and six outdoor tennis courts, guests can easily escape into the great outdoors during their stay.
---
Doha, Qatar
Qatar's capital, Doha, is one of the Middle East's most cosmopolitan destinations. While the peninsular Arab nation boasts this booming metropolis, it also equips expansive arid desert terrain and Persian Gulf shoreline stretches. From the moment visitors step off the plane and into the resplendent Hamad International Airport, the upscale nature of this city is immediately recognizable. In Doha, ultramodern architecture blueprints the city's seven resident Fifa World Cup stadiums, luxe shopping centers like Place Vendome reel in sybarites with their slew of designer shops, and world-class museums such as the Museum of Islamic Art and the National Museum of Qatar pique curious visitors' attention.
Why visit in February? February isn't as hot as it's come summertime. Plus, a new boutique hotel and members club that we love recently opened its third location in Doha. Read below to find out more.
Where to stay: Set in Qatar's historic Ministry of Interior, The Ned Doha is the first exclusive members club and boutique hotel along the Al Corniche waterfront. The 90-key stay boasts 1970s-styled interiors: terrazzo flooring, marble finishes, and fabric headboards give the space a glamorous feel. As for private members' clubs, heading to the Ned's Club Pool, which features private cabanas with green- and white-striped daybeds is the best way to experience the club's prestige.
---
Méribel, France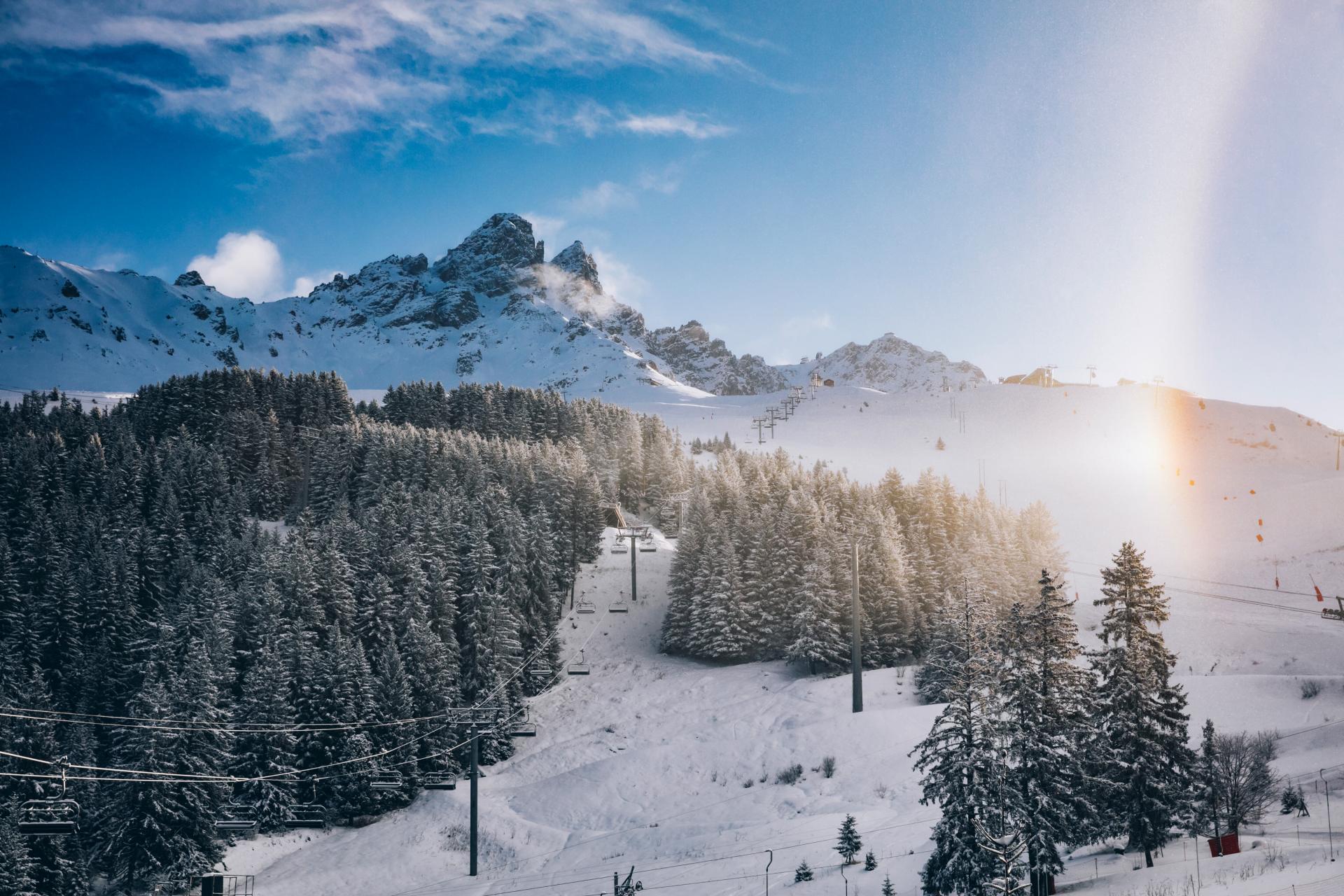 Located at the heart of France's Tarentaise Valley, Méribel is a luxe ski resort town renowned for its phenomenal abundance of ski terrain and alpine-style appearance. For a picturesque ski village with top-notch après ski opportunities and boundless luxe shopping, it's safe to say that Méribel knocks it out of the park.
Why visit in February? The French Alps couldn't be a better place to lean into the winter season. Cozying up to a fireplace after a day of hitting the slopes awaits here.
Where to stay: Le Coucou is decked out in French Alpine glamour from head to toe. The chic hotel is ideally situated along the Three Valley ski area, allowing guests the most optimal ski-in ski-out experience. Designed by architect Pierre Yovanovitch, notice the 55 naturally lit guest rooms and suites that exude haute decor, traditional alpine and minimalist touches imbued within its interiors, and expansive views of the snow-capped French Alps.
---
St. Michaels, Maryland
St. Michaels is a charming small coastal town along Maryland's Chesapeake Bay, replete with sailing boats, crab houses, waterfront bars, and chic beach-inspired boutiques.
Why visit in February? With a coastal town as charming as St. Michaels, skipping the summer crowds (and the price tag) is highly encouraged. In February, you still get that nautical charm — it just might be chillier than peak season.
Where to stay: Taking inspiration from the rugged beauty of the Chesapeake Bay, The Wildset Hotel is a timeless coastal cottage St. Michaels stay. The 34-key spot spread across three historic homes presents an elegant combination of vintage and modern interiors that reflect its heritage (think: renovated interiors complementing old-age gas fireplaces in guest rooms and suites). Expect sunlit rooms with white-washed walls, dark-trimmed furnishings, and minimalist artwork throughout the space.
---
New Orleans, Louisiana
With its Louisiana charm, French architecture, rich culinary fare, and jazz music galore, New Orleans takes the cake as one of the USA's most iconic cities. The Southern destination's hospitality scene is off-the-charts lively, from its round-the-clock nightlife to its delicious beignets (To be honest, we're dying to go just thinking about it all).
Why visit in February? Nothing screams New Orleans more than its famed annual carnival: Mardi Gras. The extravaganza kicks off on February 21 this year, so what better time to go than now? Bring us back some beads, please — and entertaining anecdotes.
Where to stay: Hotel Peter and Paul comprises a repurposed rectory, church, convent, and schoolhouse in the city's Marigny neighborhood. The Elysian Bar — the hotel's thoughtfully designed watering hole — exhibits saffron-colored rugs, a Bayou-inspired wooden bar top, and a hand-painted mural showcasing lemon trees. (For more recommendations, head to our official guide to the best boutique hotels in New Orleans.)
Other articles you may like: