Moroccan design is distinguished by its rich color palette, ornate engravings, and hypnotizing patterns. The beauty of hotels here is kept on the inside, centered around an open air courtyard often dotted with lemon and palm trees. Modeled after traditional riads, these six bespoke hotels provide an authentic look into the ancient Moroccan city of Marrakech. ⬇️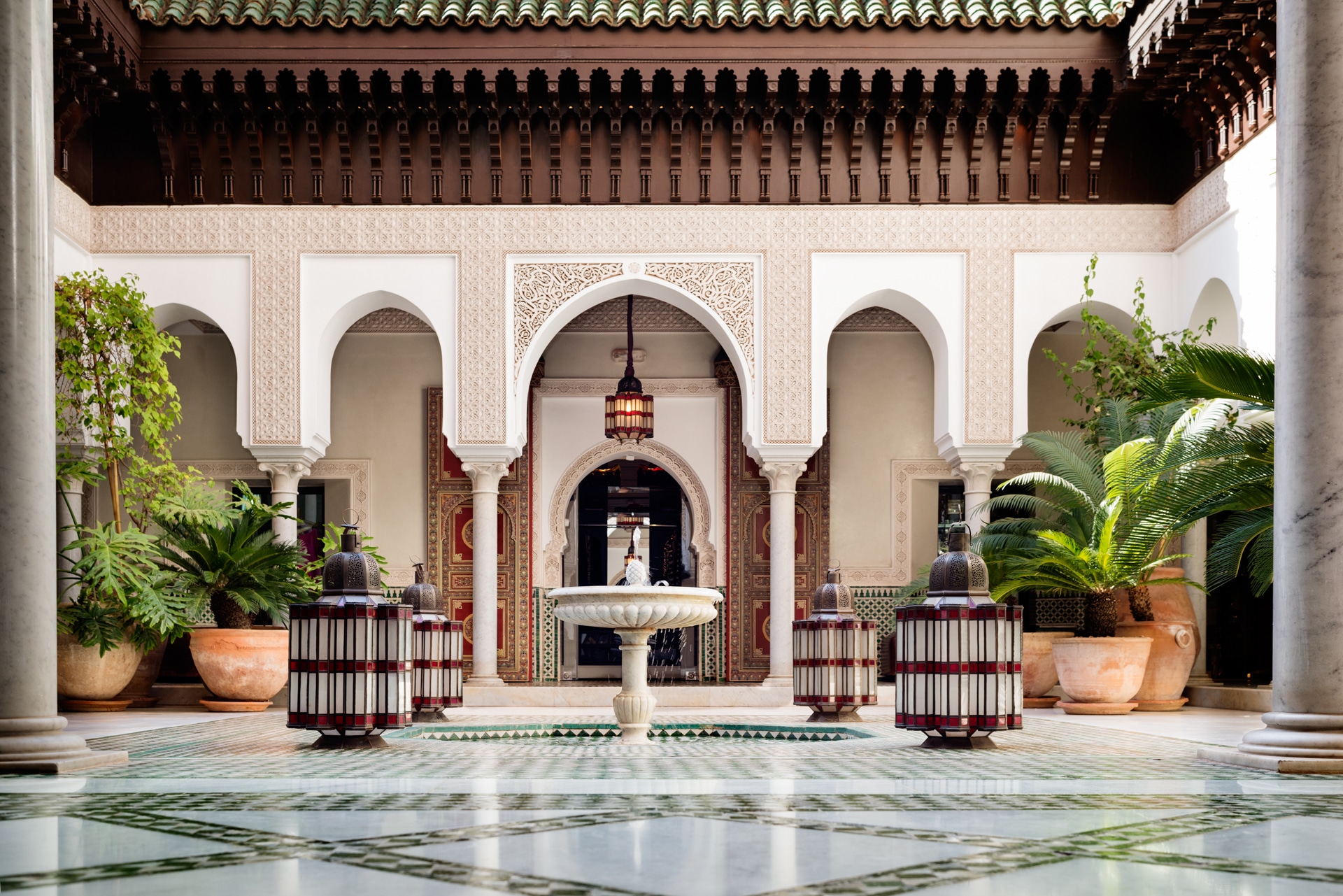 You have undoubtedly seen an Instagram post or two of a person twirling round a column guarded fountain draped in black and white tile. That is just the lobby of La Mamounia. Marked by stunning Zellige tiles worked into geometric patterns, the hotel embodies a modern Marrakech.
---
Royal Mansour touts itself as a medina inside a medina. The winding grounds are ripe for exploration with hidden doors and tiny clearings at every turn. Instead of traditional hotel rooms, Royal Mansour has 53 individually designed raids with private pools and an uninterrupted view of Jemaa el-Fna.
---
Handcrafted wears of local purveyors shine in the interiors of Riad BE Marrakech. Straw and engraved wood light fixtures soften the bold Zellige work seen throughout the hotel. Rooms are kept neutral with a focus on pattern over color to create a serene vibe amidst the busy streets.
---
Located at the heart of the bustling medina, the La Sultana Marrakech puts a quirky, bohemian spin on traditional Moroccan decor using striped walls and crystal chandeliers to create a whimsical setting against the ancient city.
---
Translating to "Little Darling", this eclectic riad is just that. The hotel's design deviates from Moroccan decor, melding traditional touches with modern accents for a refreshing take on the classic style. Each of the five rooms is individually designed with playful details like old movie posters and retro pinball machines that juxtapose elaborate textiles.
Other articles you may like: