Love the desert? Well, that makes two of us. We've rounded up 5 incredible desert escapes you can rent below, both on Airbnb (@airbnb) and independently. ⬇️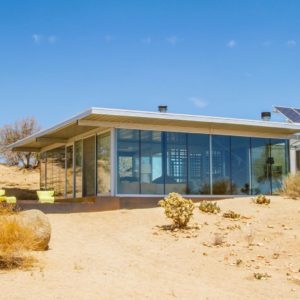 Touted by Dwell as one of the 'Best Homes in America,' this Pioneertown, California structure is designed to lessen travelers' footprint — it's entirely powered by solar panels for energy and hot water. Blueprint-wise, the open floor plan is encased in 360-degree glass floor-to-ceiling windows that provide expansive views of the surrounding boulders and desert.
Built in 1955 and known as the "Wave House" for its curving roof that mimics the nearby San Jacinto mountains, the mid-century Walter S. White-designed home is twenty minutes from Palm Springs. Accoladed with a spot in the National Register of Historic Places, the property features a one-bedroom stand-alone house with an outdoor chilled/heated cedar soaking tub, king-size bed, and two bathrooms with rain showers. (📷: @timhirschmann)
Originally designed by William Krisel, this Palm Springs home is replete with splashes of color — even just looking at the pictures will put you in a good mood. From the original architect's signature butterfly roof to renowned Interior Designer Dazey Den's (@dazeyden) inside revamp, to fetching front-yard desert foliage, it's not hard to guess why we want to put this rental on your radar.
Desert Escape #4: A Slice of Desert Dessert
This tiny home is a minimalist's dream come true (think clean lines, modern design elements, and swoon-worthy industrial-inspired decor). Joshua Tree National Park and Palm Springs are nearby. Don't forget to snap some pics for the 'gram before you check-out. (Bonus: The stargazing opportunities are endless here.)
This solar-powered dome, which comfortably sleeps up to three guests, is within proximity to postcard-worthy Big Bend National Park (about 25 minutes by car). The small-but-functional kitchen is outfitted with a fridge, stove, while the bedroom and living room areas feature Southwestern-inspired design accents you can't help but fall in love with.
Explore More with Hotels Above Par
Planning a desert escape? Take a look at our destination guides to Scottsdale and Sedona, Arizona.